7 Day Private Tour of Ireland Itinerary
Your custom 7 day tour of Ireland
Experience the best of what Ireland has to offer in our seven-day driver-guided tour.
Your local driver guide will enchant you with their stories and legends of Ireland old and new as they transport you around this little island of ours in your private, luxury vehicle.
Our tours are fully customizable, so if you see anything in this itinerary that you would like to change or locations that you feel we have missed, simply complete our online inquiry form and we can craft a complimentary custom itinerary for you.
Day 1: Dublin Full-Day Tour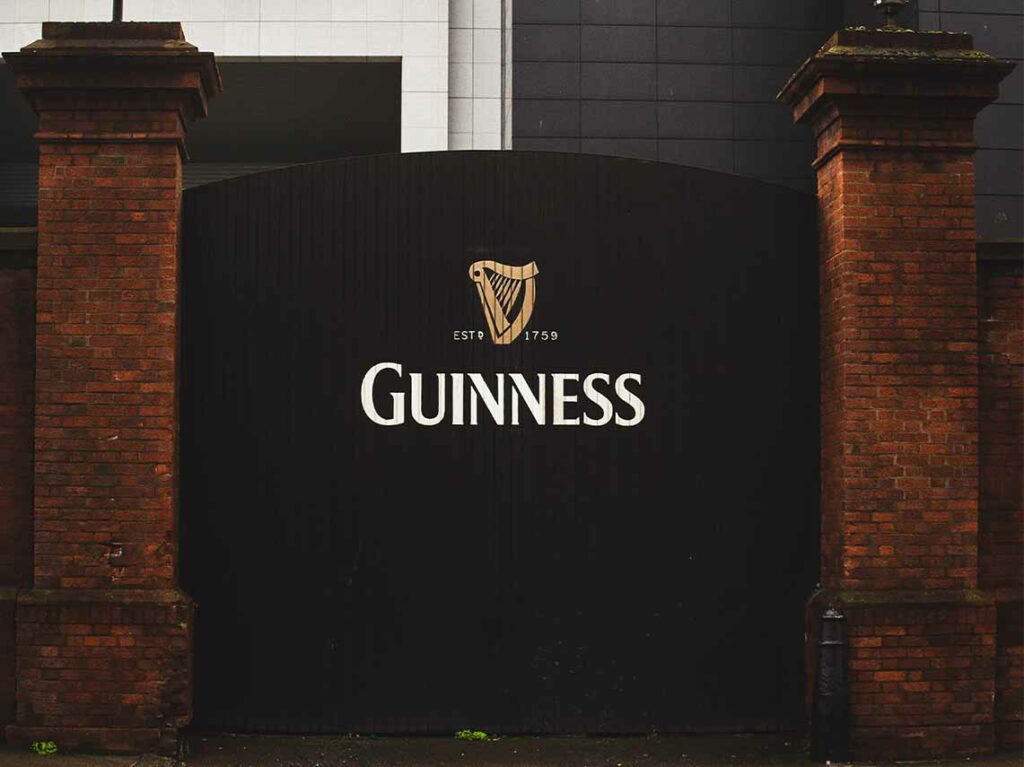 Dublin is the capital of the south and the largest city in all of Ireland so we recommend beginning your vacation here. With its rich mix of history, tradition, and culture you will certainly not be stuck for new experiences. Highlights include:
O'Connell Street and the General Post Office (GPO)
Where the Proclamation was read on Easter Sunday 1916, for the very first time.
Founded back in 1592 the college bears all the hallmarks of having survived and prospered through such a long period and is also home to the hallowed 'Book of Kells' (if you thought the university was old, the book of Kells dates back to 384AD!).
As your guide takes you through the city you will notice the distinctive charm and character created by the colorful doors. 
Visit the original Guinness factory and even pour your own pint on a tour of the storehouse.
No trip to Dublin would be complete without enjoying an Irish whiskey or two in one of the many traditional bars and music venues in the city.
In truth, Dublin has too much to offer visitors that we'd fit in one day, but our experts will customize the day to suit you and your group's interests! 
After your first day touring, your driver-guide will deliver your group to your Dublin accommodation for a well-earned rest. 
From one capital city to another! Your driver will collect you in the morning to begin your journey, to the capital of the North – Belfast. Like Dublin, there is loads to do in and around Belfast, but we'd recommend: 
Explore the Titanic quarter – There is now a world-class interactive museum on the site where the fateful ship was built back in 1911.
Travel through the Gaeltacht Quarter where you will hear the locals speaking in their traditional Gaelic Irish language.
Learn the complicated history of the troubles explored through a series of famous murals throughout the city, and eventually arriving at the Peacewall where you can even write your own message. 
Enjoy a drink in the Crown Bar
This is actually owned by the National Trust and is probably the most famous pub in Belfast. It dates from at least 1826 and features an incredibly ornate interior of tiles, original gas lamp fixtures, and a beautifully carved ceiling.
For the evening's accommodation in Belfast, you may choose to stay in the wonderful Titanic Hotel, which is just opposite the Titanic Museum – just let our planners know your preference and they can recommend somewhere that suits you and your group.
Day 3: The Causeway Coast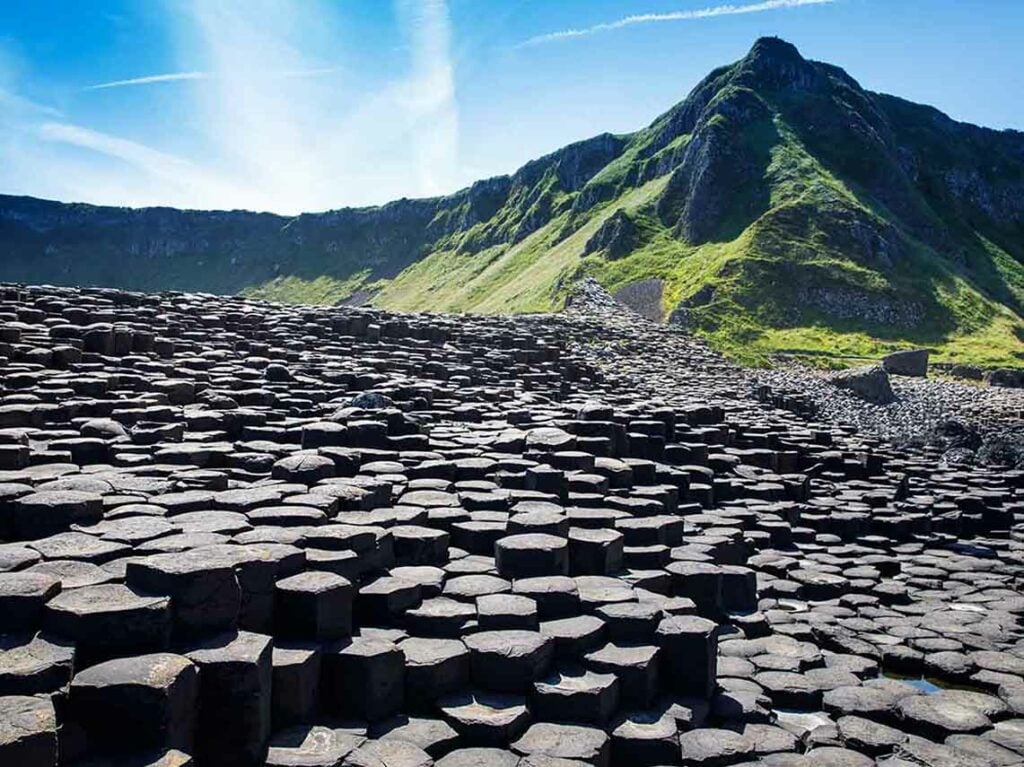 We will depart early and begin a scenic drive along the Causeway Coastal Route passing 12th-century Carrickfergus Castle en route to the northern tip of Ireland. Our first stop of the day will be in the picturesque village of Carnlough where we can take a walk by the small harbor before we continue along the coast and then through the Glens of Antrim, hearing the myths about the fairies and leprechauns said to reside there.
We'll stop for a spot of lunch in the coastal town of Ballycastle, before walking across the awe-inspiring Carrick-a-Rede rope bridge.
In the afternoon we'll explore Northern Ireland's only UNESCO World Heritage site, the incomparable Giant's Causeway, and hear the legend about the Giant Finn MacCool and the uniquely shaped stones, before finishing the day off with a visit the Dunluce Castle and heading to your accommodation in the city of Derry. 
I truly cannot say enough good things about this company. From day one Michelle was an absolute pleasure to work with. She was incredibly quick to respond to my questions, was thoughtful in all recommendations, and in my opinion went well above my expectations in helping me plans a trip I will remember forever. Our drivers were so wonderful and a joy to be around. They were knowledgeable and provided a wealth of information as well as being so friendly and accommodating. I will recommend this company to anyone and everyone!
Day 4: Derry/Londonderry - Galway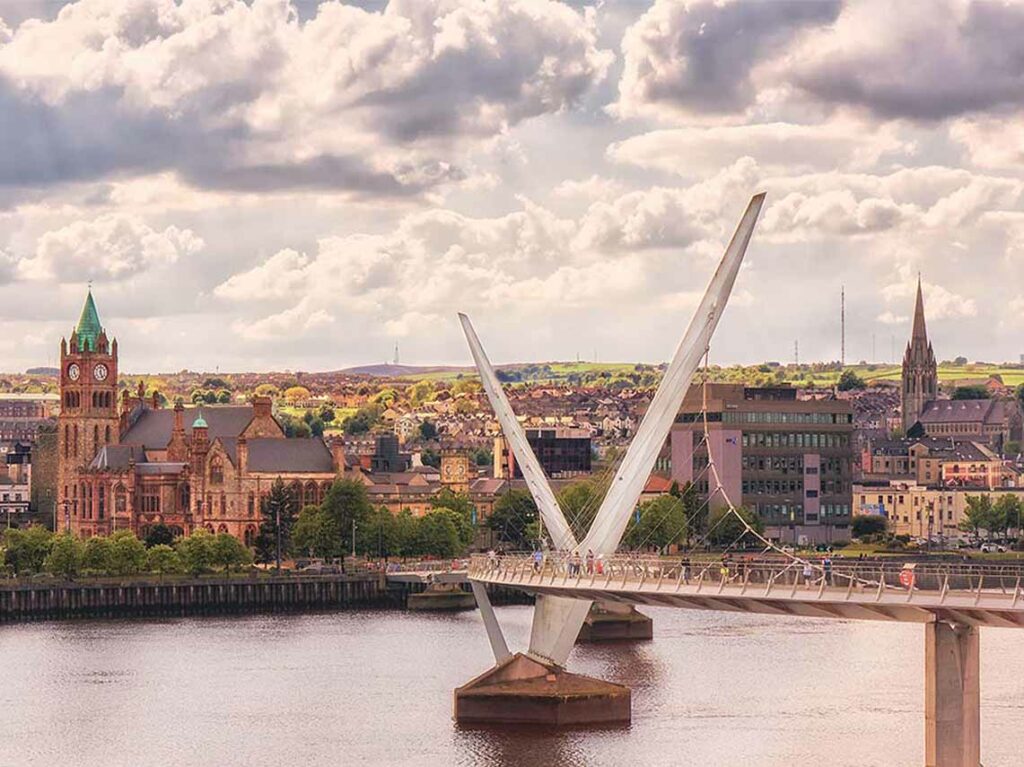 In the morning explore the famous walled city of Derry, the second-largest city in Northern Ireland. ​
We'll spend the morning exploring Derry/Londonderry including incredible sites such as The Peace Bridge, The Derry Walls, and St Columb's Cathedral.
Then in the afternoon, we will drive down to the picturesque harbor town of Galway, known as the 'Cultural Heart of Ireland'. Here you can relax, taste some authentic Irish food, enjoy the harbor views and revel in the traditional music to be heard in pubs and bars across the city.
We'll spend the night in Galway so you can enjoy your time exploring the harbor town throughout the evening.
Day 5: Galway - Cliffs of Moher - Killarney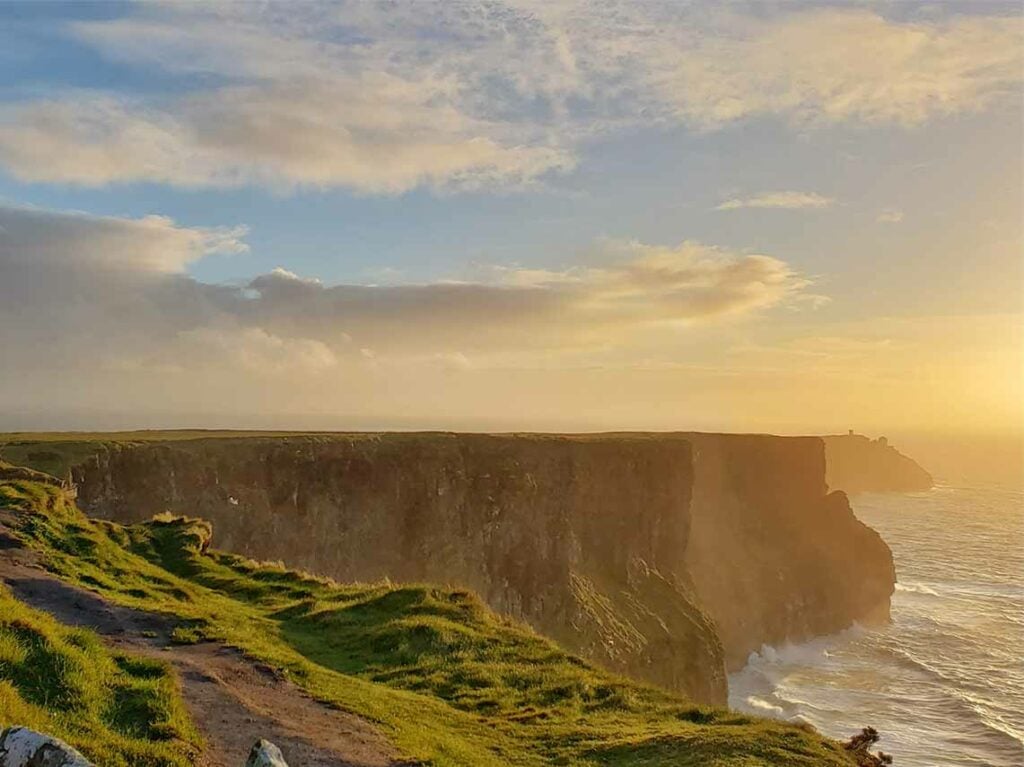 Today you will visit the Cliffs of Moher – one of the most stunning locations of natural beauty in all of Ireland.
We begin the day by first stopping at the fishing village of Kinvara to see Dunguaire Castle and The Burren – home to 75% of Ireland's native flora & location of numerous ancient monuments.
Carrying on to Kilfenora to see the famous Celtic Crosses (Irish High Crosses) before we make our way to the coastal village of Doolin.
Finally, experience the 200-meter high, 8kms long Cliffs of Moher. Enjoy stunning views over the Atlantic Ocean and the Aran Islands as you take your time to soak up the natural beauty of the Cliffs.
We'll then finish the day by staying overnight in Limerick – a town resplendent with medieval history.
Day 6: Ring of Kerry Tour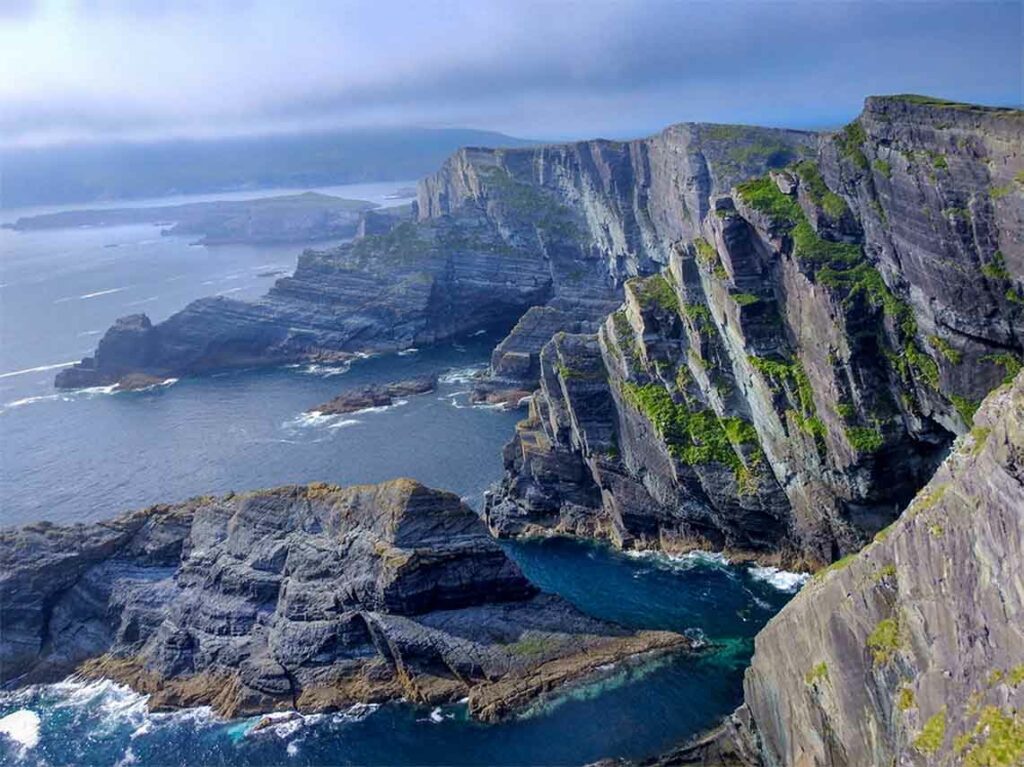 Today we will take the famous driving route along the 'Ring of Kerry,' a 179km long driving route featuring the most stunning coastal landscape imaginable, along with friendly rural seaside villages straight out of a fairy tale.
Naturally, our experienced driver guides will help you to plan your time on this tour to ensure that you take full advantage of the natural wonders on display before we return to your accommodation in Killarney for your final evening on this Irish tour.
Our trip to Ireland was extraordinary and unforgettable! Prestige Tours matched us with Peter to guide and drive us around the country for 2 weeks. He was the perfect guide for us, meeting our every need along the way. From the pickup at Dublin airport, Peter helped and guided us in every way. He made suggestions for sites, attractions, meals, etc., kept us entertained with stories and Irish history, went the extra mile (or two!) to make sure we saw everything we wanted, as well as additional things we wouldn't have wanted to miss. Peter's first-class service made us feel like celebrities, from always helping us with our luggage and ensuring all of our hotels were to our satisfaction, to driving us safely on the unfamiliar Irish roads, to always ensuring we had dinner reservations, even last-minute. He introduced us to Irish pubs, food and history, as well as putting up with our fascination with castles! We left Ireland feeling like he is a part of our family and can't wait to return to such a special, remarkable country. Our family had a trip of a lifetime, and we have Peter and Prestige Tours to thank!
Day 7: Killarney - Rock of Cashel - Kilkenny - Dublin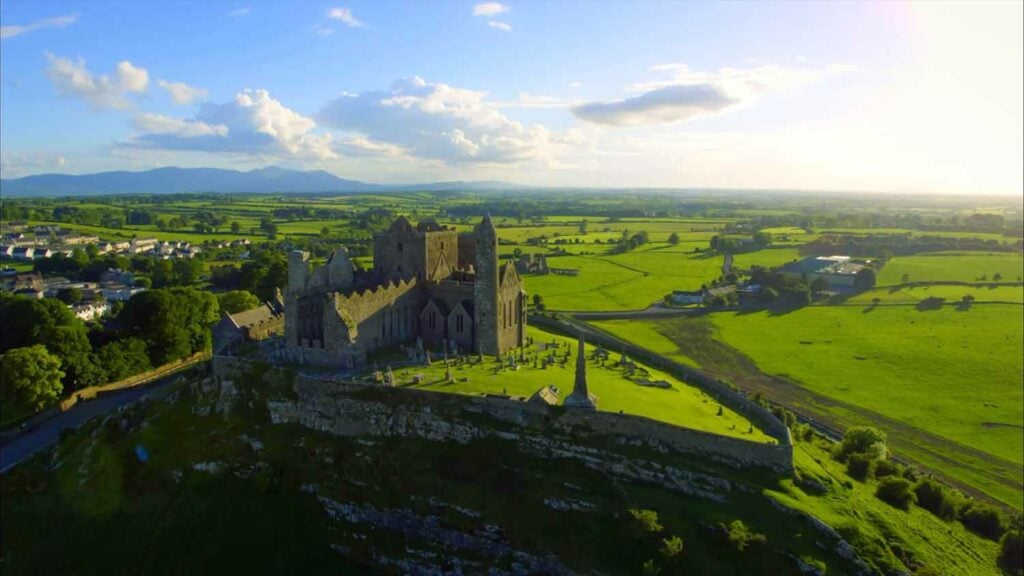 And alas! All good things must eventually come to an end as we reach the final day of this tour itinerary in Ireland.
We'll head for Dublin airport, visiting a number of incredible sites along the way – starting with…
The Rock of Cashel was the seat of the High Kings of Munster although most of the buildings on the current site date from the 12th and 13th centuries when the rock was gifted to the Church. Cashel has a character of its own, unique, and native, and is one of the most remarkable collections of Celtic art and medieval architecture to be found anywhere in Europe, you will not be disappointed by your visit.
Next up, we'll visit Kilkenny Castle: built in 1195, the castle was featured in Oliver Cromwell's re-conquest of Ireland in 1650 and was besieged during the Irish Civil War in 1922.
Finally, your driver-guide will drop you off at Dublin Airport in time for your onward flight. If you'd like to change anything in this itinerary, just let us know by filling in the form below! 
Create your perfect custom tour of Ireland
If you'd like us to book your accommodation or have any special requests, let us know in the comments.
Our group of four women hired Prestige Tours for a 5 day excursion – Dublin-Galway-Killarney-Cork-Dublin. We couldn't have been happier with the service. It was a true vacation not having to worry about getting lost or where to eat/sleep. Accommodations were included with our tour and our knowledgeable guide, Peter, gave us awesome dining recommendations at every stop. During our drive, Peter entertained us with related facts and stories. Experiencing the local culture is paramount to me. Prestige Tours did not disappoint. Some highlights for me were attending the Celtic Steps show in Killarney, the delicious dining in Kinsale and browsing the shops in Dingle and Kenmare. Thank you to Peter and Prestige Tours for a memorable trip to your beautiful country!
Michele Curtis
★★★★★​
Merrie and I thoroughly enjoyed our fabulous three-day-tour experience! Ray was a wealth of information and is truly passionate about his calling. Neither of us had ever been to your beautiful country before and felt as if we received a crash course in Irish history, architecture, culture and politics in our short time there. Beginning with Dublin helped to set the stage and then we branched out on days two and three. Ray made adjustments in real time to our itinerary and showed us some places we would have never known to look for (such as the Dublinia museum and Kilmainham jail). We had a special entrance to view the tops of the Cliffs of Moher, visited the Irish National Stud Farm and thoroughly enjoyed our trip to Blarney Castle and the Rock of Cashell. Thank you so much for your attentiveness and providing an excellent service!
Emily Turner
★★★★★​
I cannot say enough good things about Prestige Tours!!!! We had a fantastic week with our driver Billy George- he was so friendly & easy to get along with. He provided us a great experience as we traveled around Ireland. We really enjoyed his company. He was a really great driver & very funny too! James our driver from Dublin to Belfast was also awesome! He provided great insight to the history of Ireland & the troubles in Belfast. I think my husband would have talked to him for 10days straight if given the opportunity. The vehicles were really clean & nice. The itinerary was perfect!! We loved Ireland & this experience soooo much.
Amanda S.
★★★★★​
We were in Europe for nearly five months and took several tours like this during our stay. This tour was by far the best, and Rosemary was by far the best guide we had. She was very friendly and informative and went out of her way to accommodate us (e.g. our numerous requests to stop for photo ops!). We not only saw the Giant's Causeway but so many other things on this beautiful tour such as the Dark Hedges, Dunluce Castle, Carrickfergus Castle, Larne, Antrim Coast, Glenarm Castle, Ballycastle, Ballintoy, Bushmill's Distillery, Torr Head, Carrick-A-Rede Island, and Rope Bridge, Portrush Golf Club. This tour is one of those experiences that we will cherish for the rest of our lives, and we are grateful to have had a guide like Rosemary as well as a very comfortable Mercedes in which to enjoy the drive. We highly recommend!
Jeff T
★★★★★​
If you're traveling to Ireland and looking for a reliable tour group, look no further than Prestige. We had the pleasure of using them and it was one of the best trips we took. Our driver James McCleave made the trip even better. He was kind, funny and an overall pleasure to be with. Our trip was a bit different from most bc we mixed in some of our own itinerary along with Prestige's recommendations. We saw family along the way and decided on plans as we went along, letting the way we felt that day guide us. James was reliable, flexible and went with the flow. He made recommendations along the way that we otherwise wouldn't have known about. Don't hesitate to use Prestige on your next booking!
Samantha Collins
★★★★★​