Your Ultimate Ireland Four-Week Itinerary
28 Day Ireland Tour Itinerary Summary
Welcome to your ultimate 28-day tour of Ireland itinerary, a journey designed to immerse you in the Emerald Isle's rich history, vibrant culture, and stunning landscapes.
Over the course of a month, this exclusive driver-guided tour traverses both Northern Ireland and the Republic, providing an intimate, in-depth exploration of this enchanting land.
From the bustling streets of Dublin and Belfast to the serene beauty of the Cliffs of Moher and the Aran Islands, each day brings a new opportunity for discovery. Enjoy private guided tours, traditional Irish music sessions, local culinary delights, and more.
So, are you ready to experience the authentic soul of Ireland? Let's begin this extraordinary journey together.
Destinations on our Month Long Ireland Tour Itinerary:
This 28-day tour itinerary has been meticulously designed to limit travel times between destinations and allows for multiple nights in the same hotels for your comfort. However, remember that this itinerary is just a template. 
Our team is eager to customize your journey to your unique interests and preferences, making your Irish adventure truly yours.
Welcome to Ireland! Upon arrival in Dublin, a city steeped in history and buzzing with energy, you'll be transferred to your luxurious hotel. After settling in, take a moment to enjoy the splendid views of the city.
Private Evening Walking Tour of Dublin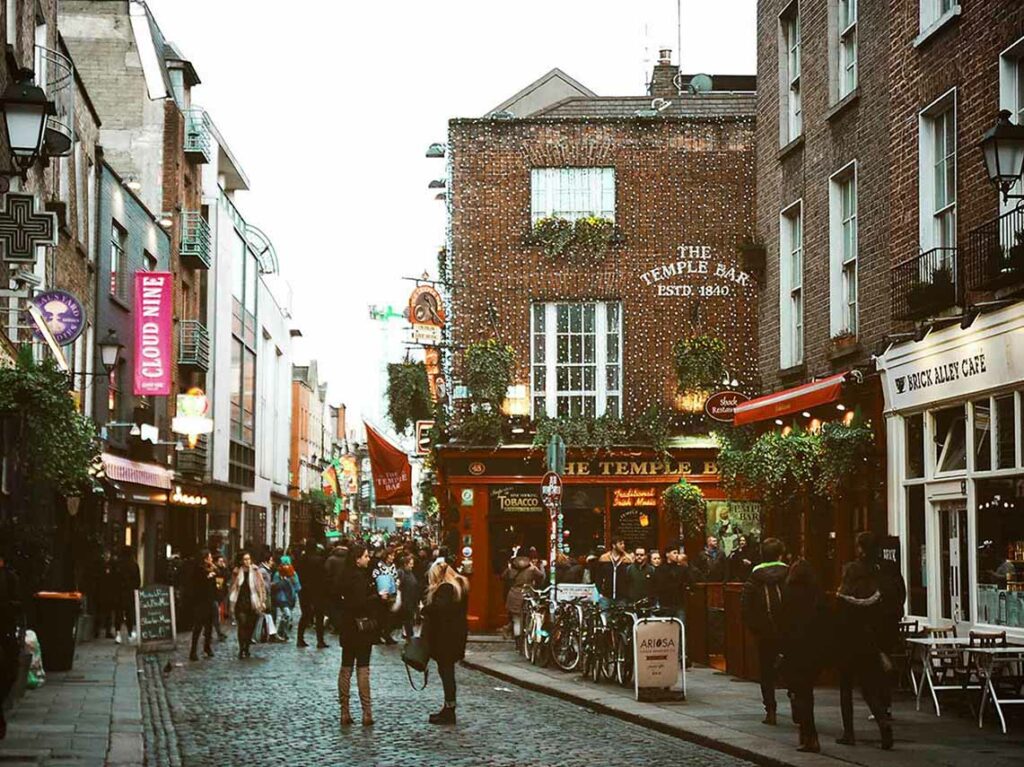 As the city lights up, embark on a private evening walking tour of Dublin. From the historic Dublin Castle to the lively Temple Bar district, your guide will regale you with fascinating stories about the city's past and present.
Don't miss the stunning sight of the illuminated Ha'penny Bridge over the River Liffey.
Day 2: Discovering Dublin's Rich History
Join your guide in the morning as you begin exploring Dublin City together.
Private Tour of Trinity College and the Book of Kells
The day's first destination is a private tour of Trinity College, Ireland's oldest university, renowned for its stunning architecture and vibrant atmosphere.
You'll have the chance to view the incredible Book of Kells, an ancient manuscript considered one of the most significant artefacts of medieval art.
Authentic Irish Lunch in Temple Bar
Enjoy a delicious lunch at a traditional Irish pub in the bustling Temple Bar district. Feast on classic dishes like Irish stew or fish and chips, accompanied by a pint of local craft beer.
Private Tour of Dublin Castle and St. Patrick's Cathedral
In the afternoon, explore the iconic Dublin Castle, a symbol of British rule for centuries, now housing important government institutions.
Continue to St. Patrick's Cathedral, the national cathedral of the Church of Ireland, where you'll marvel at its stunning Gothic architecture and learn about its rich history.
Day 3: Dublin's Iconic Attractions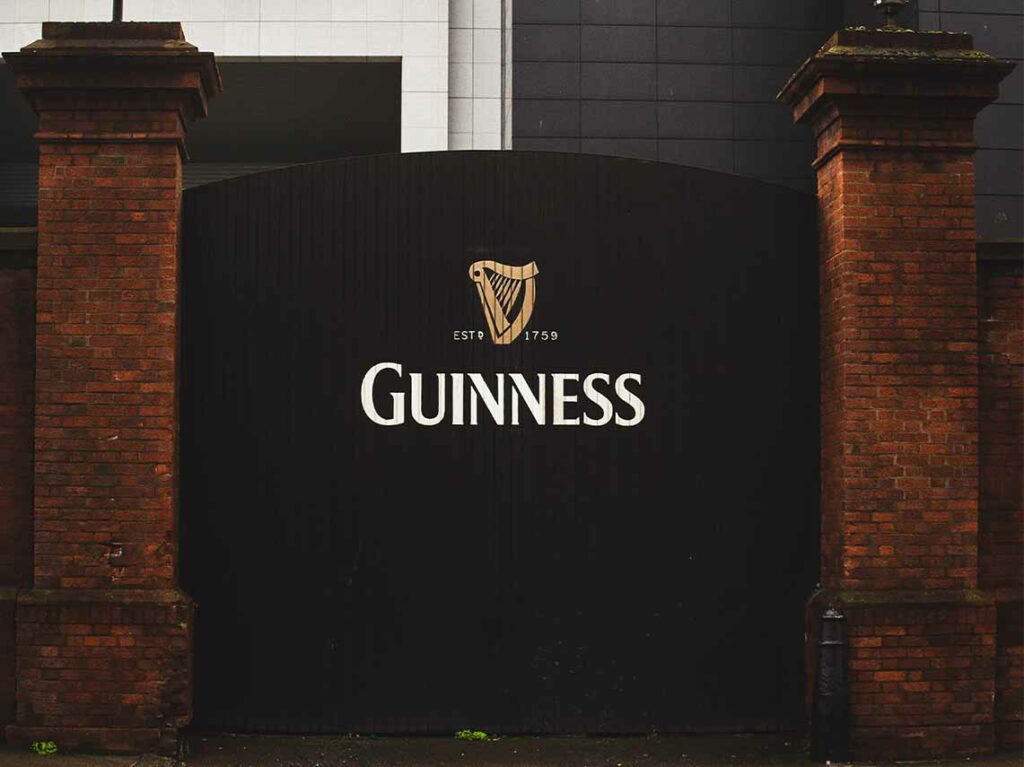 Your final day in Dublin has been curated for you to explore some of the city's most famous and iconic sights and sounds.
Private Tour of Guinness Storehouse
Discover the history of Ireland's most iconic brew with a private tour of the Guinness Storehouse.
Learn about the brewing process, the brand's history, and its significance to Dublin. The highlight is a tasting session in the Gravity Bar, where you'll sip a perfectly poured pint while enjoying panoramic views of the city.
Afternoon at Phoenix Park
Spend a leisurely afternoon at Phoenix Park, one of the largest enclosed public parks in any European capital.
The park houses the Dublin Zoo, several monuments, and the residence of the President of Ireland. You might even encounter a herd of wild fallow deer, which have lived in the park for centuries!
Evening Traditional Irish Music Experience in a Local Pub
Round off your day with an unforgettable evening at a local pub, where you'll be treated to a traditional Irish music session. Let the lively tunes of the fiddle, the bodhran, and the Irish flute fill your heart with joy as you immerse yourself in this quintessential Irish experience.
Absolutely wonderful experience with Prestige Tours! Our driver, James McCleave was the most amazing tour guide, story teller, and historian. He is professional, funny, courteous, patient and sure knows his way around. He made suggestions for us to improve our trip, and we took them all and completely benefitted from his expertise. He was incredibly accommodating to my 91 year old mother and went well out of his way to make sure we had everything we needed. He made our trip the greatest experience we could have ever hoped for. I highly recommend Prestige for their customer care and service, knowledge, and communication (Michelle is fabulous!). We cannot wait to return to Ireland - James, I hope you'll be ready for us!
Day 4: A Day in Glendalough
Your first-day trip of the itinerary sees you join your private driver for the 1-hour journey from Dublin to Glendalough Valley in the Wicklow Mountains National Park.
Private Guided Tour of Glendalough Monastic Site
Glendalough Valley is an underappreciated gem renowned for its early medieval monastic settlement founded by St. Kevin in the 6th century, yet lacking the fame and touristic crowds of some of the other sites on our itinerary.
Your guide will take you to explore the ancient ruins of churches, a cathedral, and one of the country's most beautiful round towers as they weave tales of the site's rich ecclesiastical history, bringing the past vividly to life.
Enjoy a delicious lunch at a charming local inn. Savour traditional Irish fare prepared with locally-sourced ingredients and paired with the finest ales and spirits.
As the day draws to a close, relax on the scenic drive back to Dublin.
Day 5: Journey to Belfast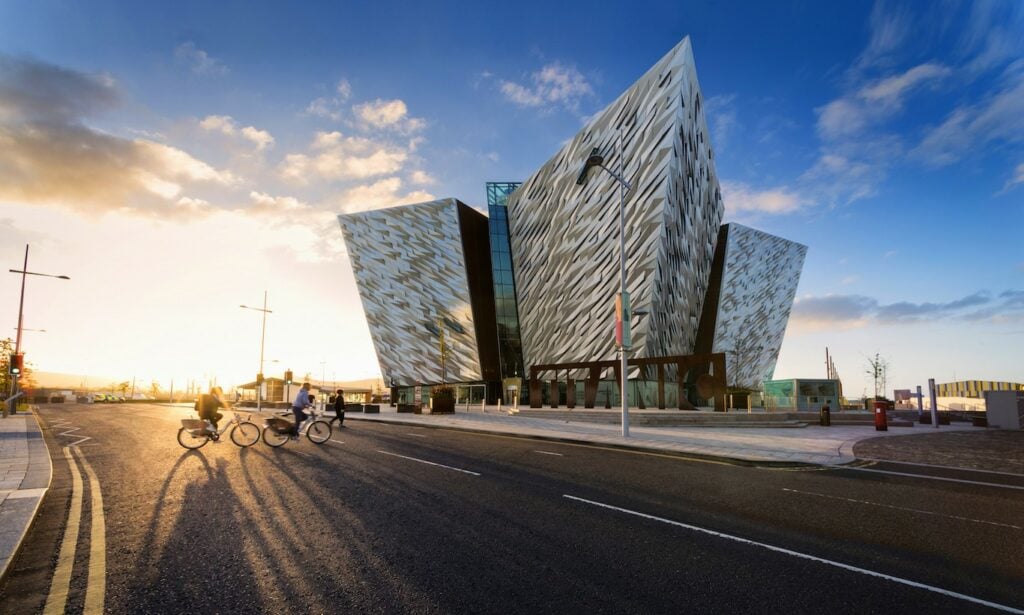 Your private driver will collect you at your accommodation to make the one hour and half journey north to Belfast. Check into your hotel and enjoy a brief rest before embarking on an exploration of this vibrant city.
Private Guided Tour of Titanic Belfast
Visit the Titanic Belfast, an iconic six-story building featuring nine interactive galleries that unravel the history of the Titanic, from its conception in Belfast in the early 1900s to its tragic end.
Your guide will provide fascinating insights into the ship's design, construction, and infamous maiden voyage.
Evening Tour of Belfast's Historic Pubs
Spend the evening discovering some of Belfast's most historic pubs.
Your guide will lead you through the city's charming cobbled streets, sharing stories of the city's past and its vibrant pub culture.
Enjoy a pint or two of local ale and immerse yourself in the warm, welcoming atmosphere.
Day 6: Belfast Castle, Ulster Museum & Cathedral Quarter
We kick off day 6 of our itinerary with a private tour of the majestic Belfast Castle, nestled on the slopes of Cave Hill. Explore the elegant interiors and stunning gardens, then embark on a hike up Cave Hill, where you'll be rewarded with panoramic views of the city and Belfast Lough.
Make your way to the Ulster Museum, home to a vast collection of art, history, and natural sciences exhibits.
Your guide will help you navigate the expansive collection, highlighting the most significant exhibits and providing context to Ireland's complex history.
Exploration of Belfast's Cathedral Quarter
Explore the Cathedral Quarter, Belfast's cultural and creative hub as the evening settles in.
Stroll the charming, narrow streets filled with historic buildings, cutting-edge street art, and a bustling nightlife scene.
Your guide will recommend the best local spots to enjoy an evening meal and perhaps some live music.
We cannot say enough good things about every aspect of our experience with Prestige Tours. Prior to our arrival in Ireland, Michelle was helpful and responsive to our every question and concern. And our driver Peter was simply a delight! He was friendly, thoughtful, and incredibly well informed. It was clear he took great pleasure in sharing his beautiful country with us and we were delighted with his stories, his professionalism, and the fact that he seemed to know everyone in Ireland! He lived up to all the reports of the friendliness, humor, and joy of life of the Irish. We added something to our plans at the last minute and he was great about setting up the new activity and rearranging our itinerary to accommodate this change. We feel like we have a new best friend in Ireland! If you want to really experience all the best of your trip to Ireland, we highly recommend Prestige Tours! We will be calling them again.
Day 7: Adventure to Giant's Causeway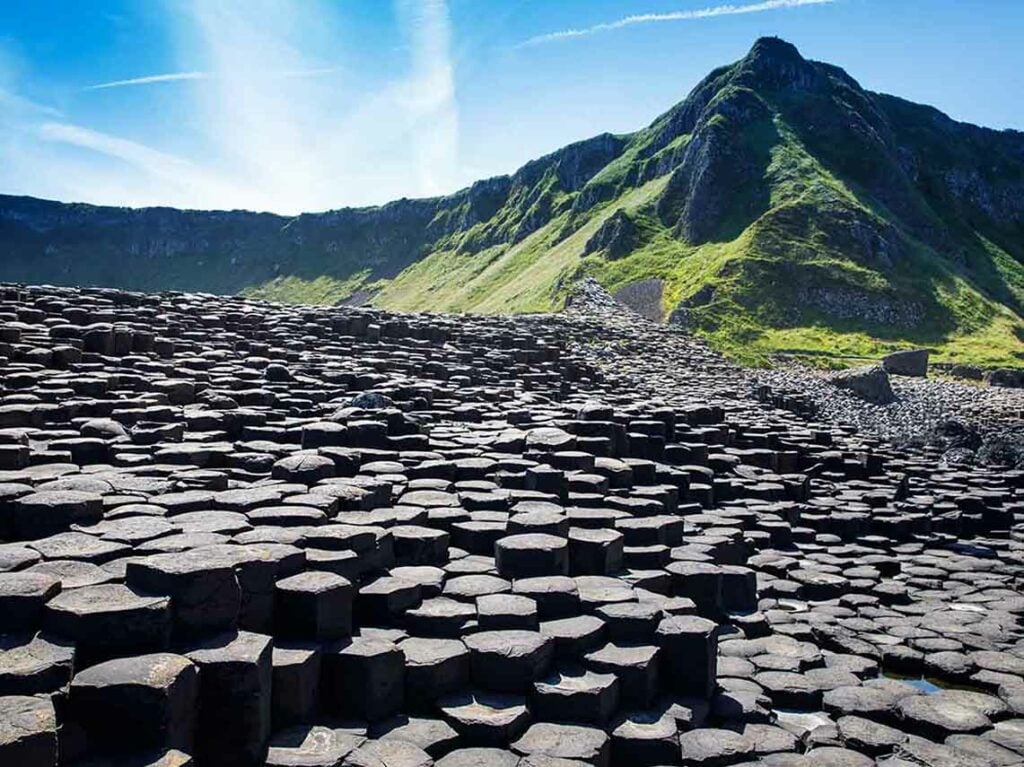 We mark the first week of your 4-week tour with an unforgettable trip to the UNESCO World Heritage site of the Giant's Causeway, just one hour from Belfast, with your private driver guide.
Your guide will unravel the myths and legends surrounding this geological wonder, a vast mosaic of perfectly formed hexagonal basalt columns. Marvel at the dramatic cliff-top setting and let the powerful sea breeze invigorate your senses.
Dine in the quaint seaside resort town of Portrush. Enjoy fresh, locally-sourced seafood while taking in the stunning views of the Atlantic Ocean.
Return to Belfast in the evening.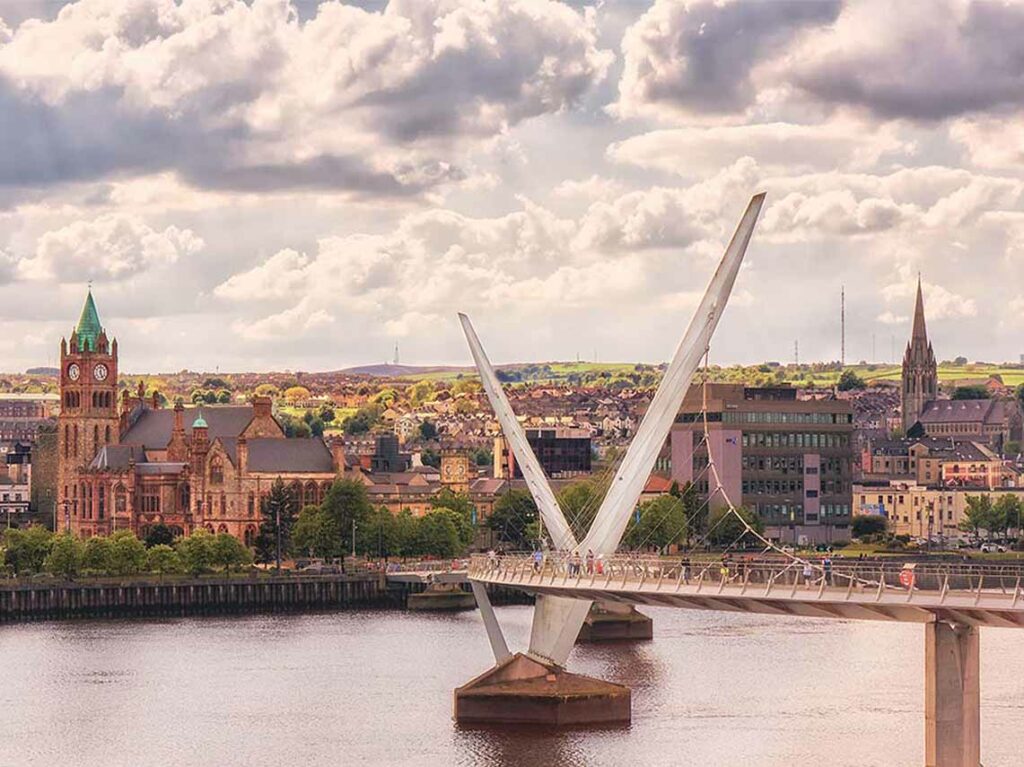 Head west for an hour with your chauffeur to Derry, one of the finest walled cities in Europe.
Private Tour of the Derry City Walls
Traverse the historic Derry City Walls with your private guide.
Learn about the city's tumultuous past and significance in the Irish struggle for independence as you wander these well-preserved 17th-century fortifications, offering a unique urban walkway with panoramic views.
Evening at a Traditional Irish Music Session
Immerse yourself in Ireland's rich musical heritage with an evening at a traditional Irish music session. Revel in the harmonies of fiddles, flutes, and bodhráns, and perhaps even join in a friendly sing-along.
Day 9: Discovering Donegal & Slieve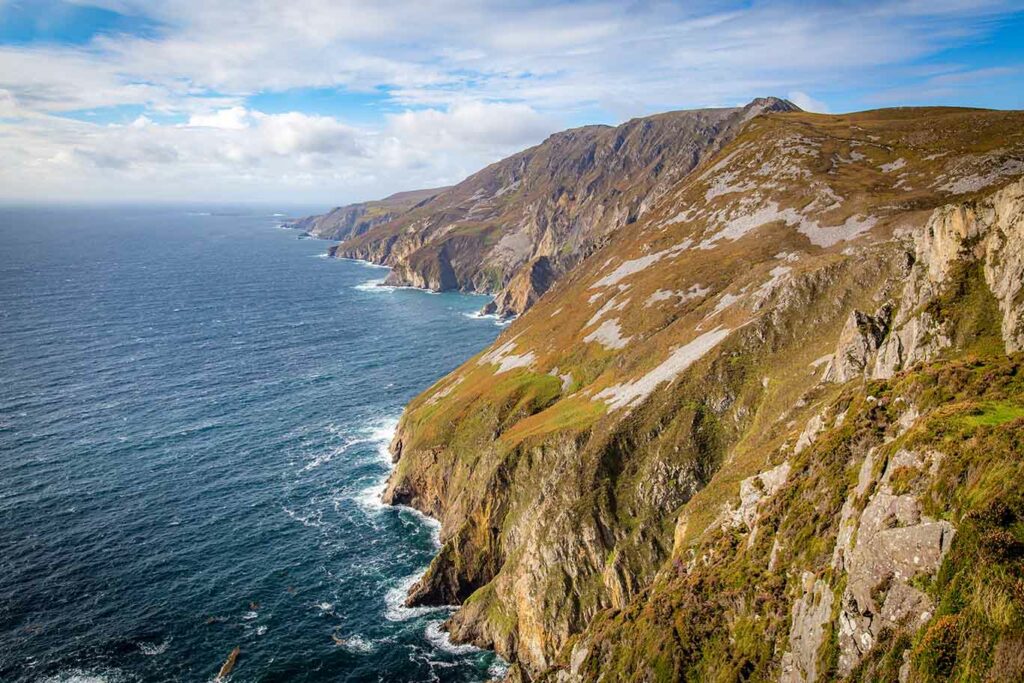 Venture to the heart of Donegal town to visit the imposing Donegal Castle. Built by the O'Donnell chieftains in the 15th century, the castle's restored tower house stands as a testament to the area's rich history. Your guide will share enthralling tales of the castle's former residents and their influence on the region.
Relish a hearty lunch in one of Donegal town's welcoming eateries. Sample traditional Irish dishes lovingly prepared with locally sourced ingredients, and soak up the friendly, laid-back atmosphere.
Visit Slieve League Cliffs
Travel to the majestic Slieve League Cliffs, some of the highest sea cliffs in Europe. Enjoy a refreshing hike to the viewpoint for stunning panoramic views of the Atlantic Ocean.
Spend the night in Donegal.
I truly cannot say enough good things about this company. From day one Michelle was an absolute pleasure to work with. She was incredibly quick to respond to my questions, was thoughtful in all recommendations, and in my opinion went well above my expectations in helping me plans a trip I will remember forever. Our drivers were so wonderful and a joy to be around. They were knowledgeable and provided a wealth of information as well as being so friendly and accommodating. I will recommend this company to anyone and everyone!
Day 10: Journey to Galway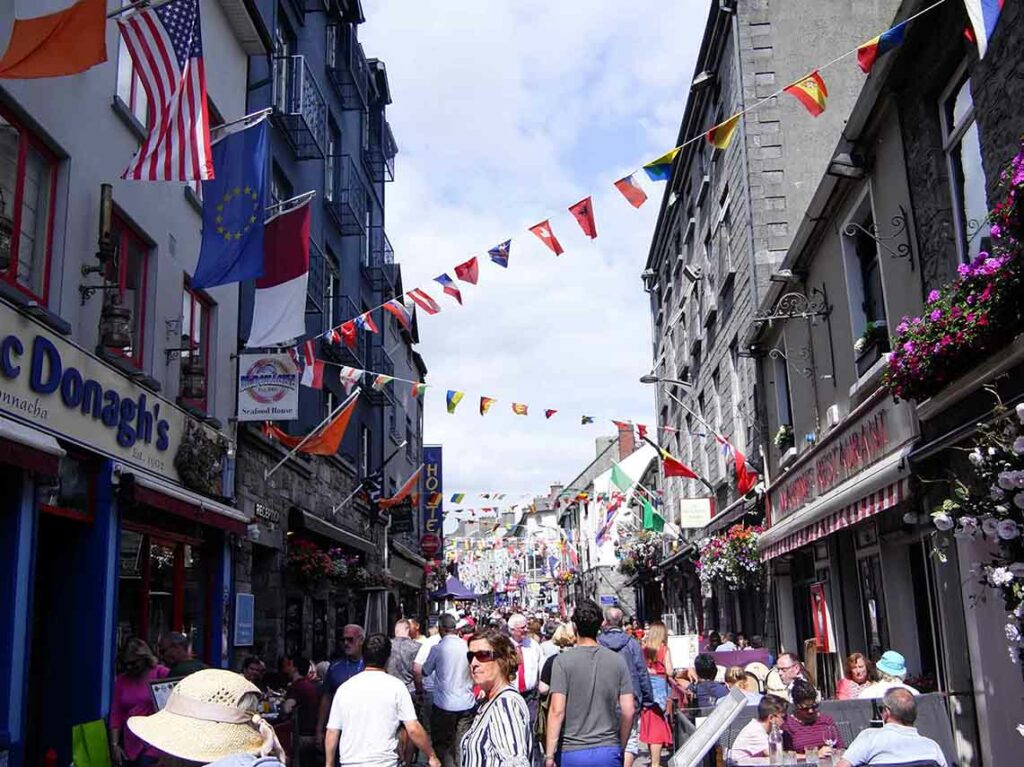 Begin the day by travelling to the vibrant city of Galway, often referred to as Ireland's Cultural Heart; it offers a unique blend of traditional Irish music, arts, and rich history, all set against the backdrop of stunning landscapes from the rugged Aran Islands to the scenic beauty of Connemara.
Its vibrant city life, filled with colourful streets, a thriving food scene, and welcoming locals, combines with a wealth of historic sites like the Spanish Arch and Lynch's Castle, making Galway a must-visit destination for a truly Irish experience.
Private Tour of Galway's Latin Quarter
Delve into the historic Latin Quarter with your guide. This lively district is packed with traditional pubs, unique shops, and charming cobblestone streets. Your guide will enlighten you about the area's rich history, from its medieval roots to its present-day status as a cultural hotspot.
Enjoy an evening stroll along the Salthill Promenade, Galway's most popular seaside spot, where you can take in stunning views of Galway Bay and even 'kick the wall', a local tradition.
Afterwards, explore the lively food scene in the city with an array of eclectic dining options, from upscale seafood restaurants to international cuisine, or visit a local theatre like the Town Hall Theatre or Druid Theatre for a contemporary Irish play or performance.
Day 11: Voyage to the Aran Islands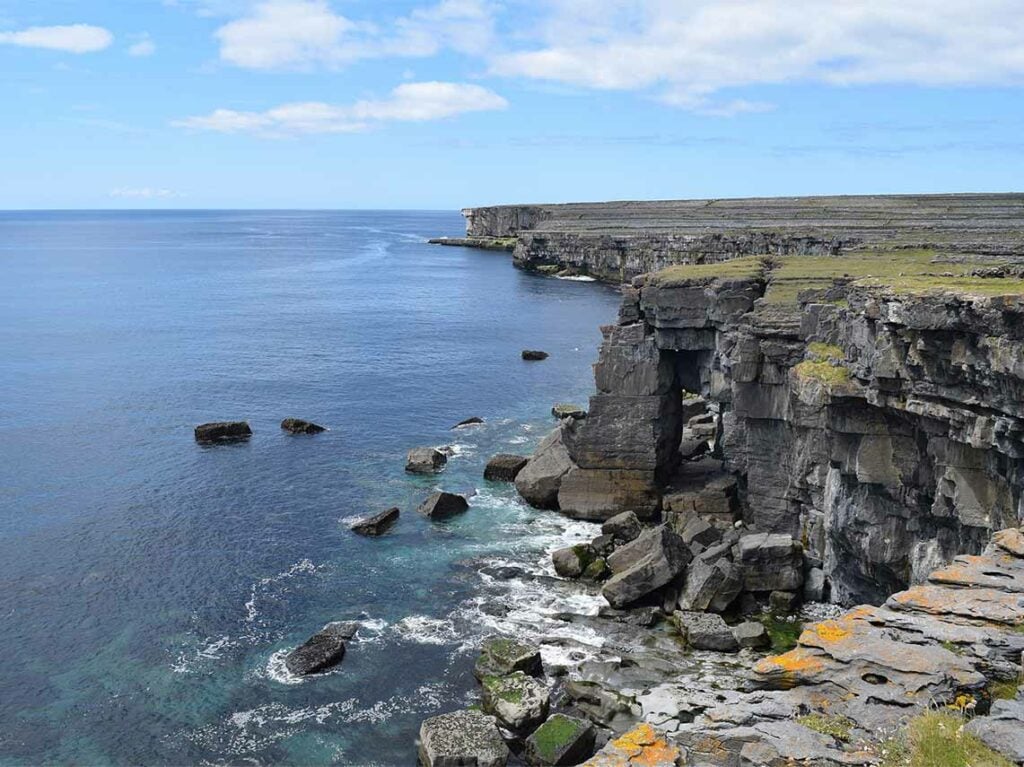 Sail to the timeless Aran Islands, a group of three islands located at the mouth of Galway Bay. Your private boat tour will showcase the islands' rugged beauty, ancient ruins, and enduring Gaelic traditions.
Savour lunch on Inishmore, the largest of the Aran Islands. Enjoy fresh, local produce and seafood against the backdrop of the island's stunning landscapes.
As the sun sets, return to Galway, the echoes of the island's ancient past and the taste of the sea still lingering in your memory.
Day 12: Galway Museum & Culture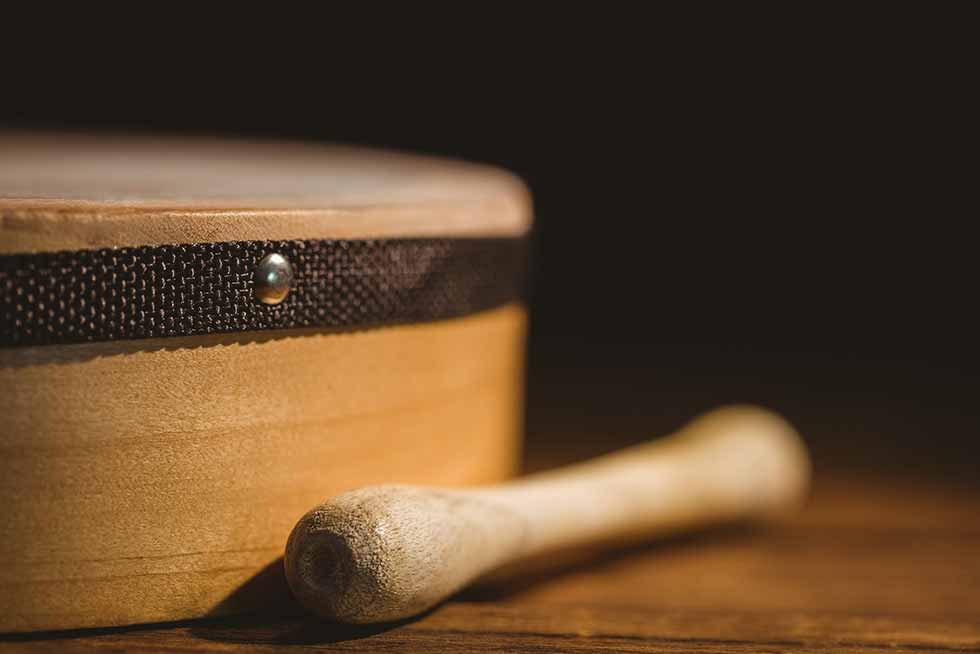 Spend the morning at the Galway City Museum, guided by an expert historian. Uncover Galway's past through a diverse collection of artefacts from prehistoric times to the present day.
Take a leisurely afternoon stroll along the Salthill Promenade, enjoying sweeping views over Galway Bay. Let the Atlantic breeze invigorate your senses as you marvel at the beauty of this coastal city.
Traditional Irish Music Session
Conclude the day with another night of traditional Irish music. Let the lively tunes, heartfelt ballads, and the lively banter of the locals provide the perfect finale to your Galway adventure.
We are so glad we decided to travel with Prestige! What a lovely company. Michelle, Elaine, and Denise worked so hard to make sure every aspect of our trip was perfect, and we could not have asked for a better guide than Gerry! We seriously appreciate the planning, hard work, and help you all put into this. The trip was wonderful! We will absolutely be recommending your company in the future to anyone interested in a trip to Ireland and Northern Ireland. Wishing you all the very best, with much thanks!
Day 13: Adventure to the Cliffs of Moher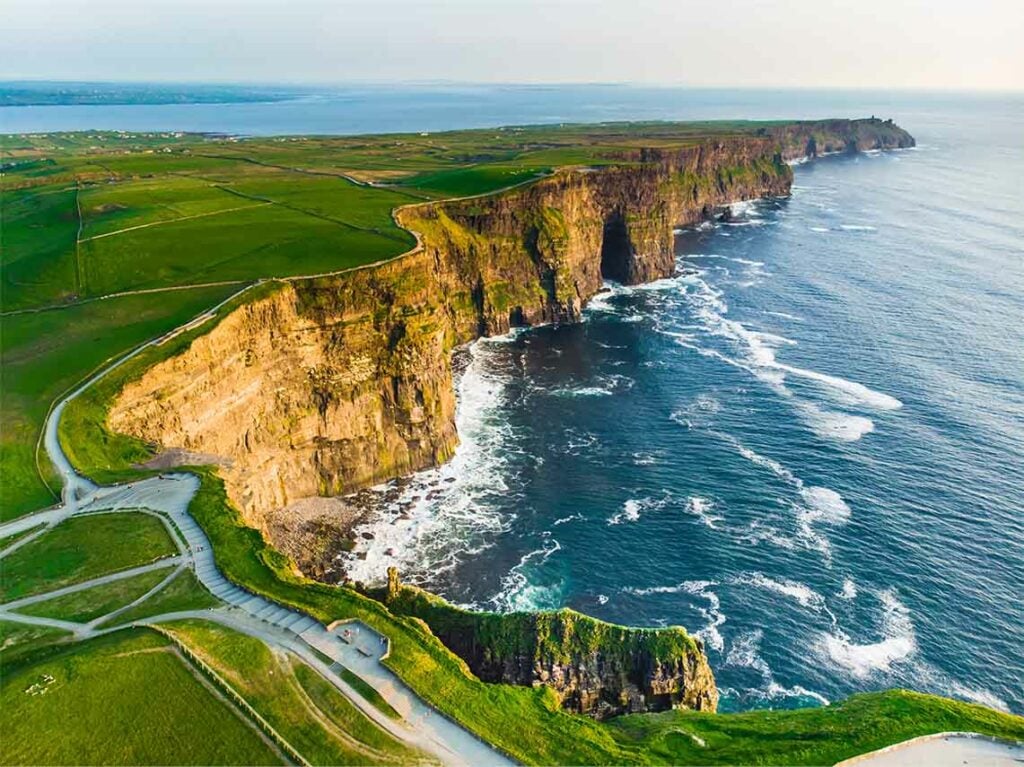 Journey to the dramatic Cliffs of Moher, one of Ireland's most iconic natural wonders.
Private Tour of the Cliffs of Moher
Discover why the Cliffs are regarded as one of Ireland's most stunning and popular destinations. Featuring dramatic 700-foot high cliffs that offer breathtaking panoramic views of the wild Atlantic Ocean and the stunning Irish countryside. The area also provides opportunities to explore rich local flora and fauna.
Visit the interactive Cliffs of Moher Visitor Experience Centre, and capture unforgettable moments against the backdrop of one of nature's most awe-inspiring creations.
Nestled at the foot of the Cliffs, Doolin is a charming village known for its traditional music and hearty fare. Enjoy a delectable lunch at a local pub, sampling Irish stew or freshly caught seafood while soaking in this coastal gem's quaint, rustic charm.
Day 14: Exploration of Limerick
Begin the day with a chauffeured journey to Limerick, a city steeped in history and brimming with culture.
Private Tour of King John's Castle
Your guide will lead you through the impressive King John's Castle, a 13th-century stronghold boasting a fascinating history.
As you explore the castle's robust walls, towers, and exhibitions, you'll gain a vivid understanding of Ireland's medieval past.
Private Walking Tour of Medieval Limerick
Explore the city's rich medieval past with a private walking tour.
Your knowledgeable guide will lead you through Limerick's ancient quarters, where you'll discover a wealth of historic landmarks. Starting at the Treaty Stone, you'll hear about the infamous Treaty of Limerick, then move on to see St. Mary's Cathedral, one of the oldest buildings in Limerick.
Walk along the Medieval Walls and visit the People's Museum of Limerick to get a glimpse into the lives of Limerick citizens during medieval times. Throughout the tour, your guide will provide captivating stories and insights into Limerick's medieval history.
As night draws in, step out to explore Limerick's burgeoning food scene, with a wide variety of fine dining restaurants and gastro pubs offering local and international cuisine.
Check out a play or performance at the Lime Tree Theatre or an art exhibit at the Limerick City Gallery of Art for a dose of contemporary culture.
Day 15: Limerick's Rich Heritage
Begin your day at the Hunt Museum, home to a diverse collection of art and antiquities. Your guide will illuminate the significance of each piece, from the Iron Age to the 20th century, including works from Picasso and Yeats.
Frank McCourt's 'Angela's Ashes' Experience
Literature fans will love this private tour that takes you through the Limerick of Frank McCourt's memoir, "Angela's Ashes".
Your guide, a Frank McCourt specialist, will bring you to the key locations from the book, including Leamy's School, where Frank was educated, and the site of the McCourt's former home.
As you stroll, your guide will narrate excerpts from the book, painting a vivid picture of the author's childhood and giving you a deeper understanding of this iconic work. This tour is a must for literature enthusiasts and those interested in the social history of Limerick.
Indulge in Limerick's burgeoning culinary scene with a private food tour.
Your expert local guide will take you on a gastronomic journey through the city's quaint streets, stopping at hidden foodie gems and well-established local restaurants. Sample everything from artisan cheeses and handmade chocolates to fresh seafood and succulent Irish meats.
Along the way, your guide will share stories about Limerick's food culture, its history, and its people.
Prestige customized our tour for 10 days. It was beyond our expectations. Damien, our driver, was very informative and funny to make our journey more enjoyable. I would highly recommend them for a great experience.
Day 16: Journey to Bunratty Castle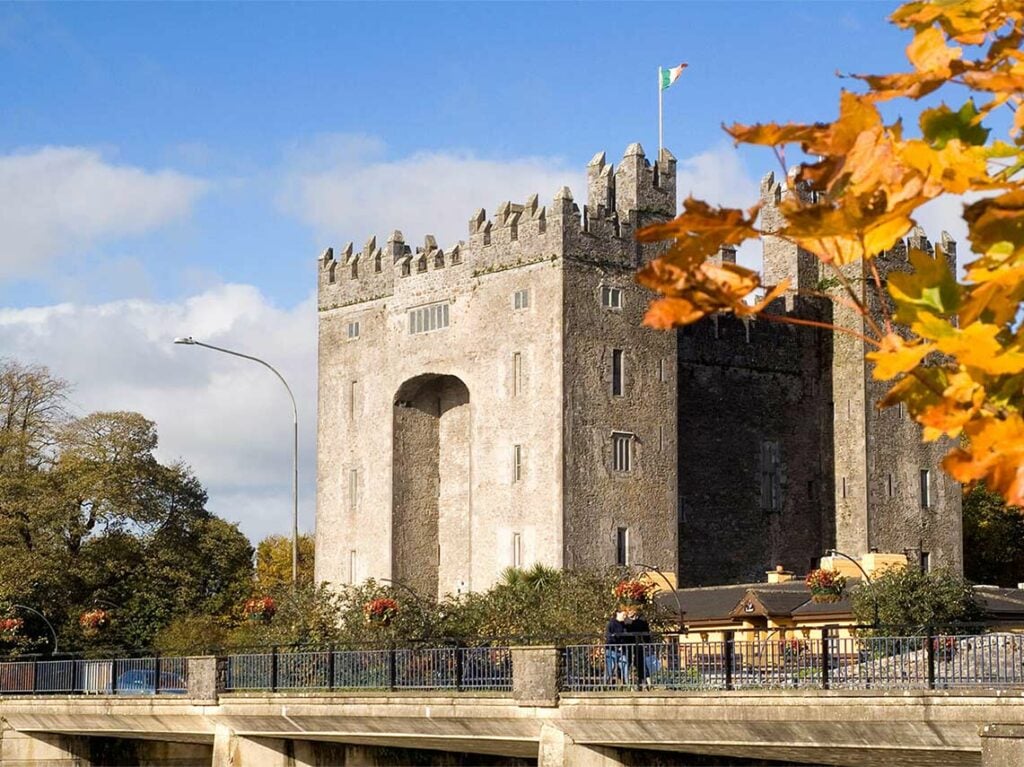 Embark on a private journey through time as you explore the historic Bunratty Castle and Folk Park.
Private Tour of Bunratty Castle and Folk Park
Your knowledgeable local guide will meet you at the entrance of this iconic attraction, starting your tour with the 15th-century Bunratty Castle. As you wander through the castle's beautifully restored rooms, your guide will share intriguing tales of the families who lived here and the battles fought over this strategic fortress.
Next, you'll return to 19th-century Ireland as you explore the adjoining Folk Park. This living history museum is home to over 30 buildings, each recreating rural Ireland's life and times. You'll visit quaint thatched cottages, a traditional Irish pub, and a period schoolhouse. Meet the "residents" of the Folk Park, costumed actors who bring history to life, and see farm animals reminiscent of the era.
Stroll through the beautiful walled garden and stop by the charming tea room for a taste of traditional Irish baking. This private tour of Bunratty Castle and Folk Park offers an engaging and immersive look into Ireland's past, making history both accessible and entertaining.
Nestled beside the castle, Durty Nelly's is one of Ireland's most famous pubs. Enjoy a hearty lunch here, sampling traditional Irish dishes such as shepherd's pie or corned beef and cabbage.
Evening Return to Limerick
As the sun begins to set, make your way back to Limerick, carrying memories of a bygone era.
Day 17: The Charm of Killarney
Today, set your sights on the picturesque town of Killarney. This scenic gem, known for its lush landscapes and friendly locals, serves as your base for the next leg of your Irish adventure. After settling into your chosen hotel, prepare for an afternoon of fascinating exploration in this vibrant town.
Private Tour of Ross Castle
Your afternoon begins with a private tour of the historic Ross Castle. This 15th-century tower house, perched on the tranquil edge of Lough Leane, is an essential landmark in Killarney's history. As you wander through the well-preserved rooms of the castle, your expert guide will weave tales of its strategic significance and share intriguing anecdotes about its former residents, bringing the castle's rich history to life.
Private Boat Tour on Lough Leane
After your castle tour, transition from land to water with a private boat tour on Lough Leane, the largest of Killarney's three lakes.
Revel in the tranquillity of the lake as your guide points out various historical sites, native wildlife, and unique flora. Bask in the beauty of the surrounding mountains and keep an eye out for the island's monastic sites that add to the lake's mystical allure.
Artistic Evening at Killarney Art Gallery
Instead of traditional music, conclude your day with a cultural treat by visiting the Killarney Art Gallery. This esteemed gallery showcases a variety of artworks, from contemporary Irish artists to internationally renowned names. Explore the exhibits at your own pace, allowing the vibrant colours, thought-provoking themes, and diverse art styles to inspire and entertain you. It's a perfect way to unwind and absorb some culture before retiring to your hotel for the evening.
Our experience was great! Our driver-guide Denis O'Sullivan was amazing and the group had a phenomenal time with him. Not only was his driving absolutely impeccable and impressive given the very very tight and windy roads going to the Cliffs of Moher, but his commentary was wonderful. He had the right balance of informational approach, to cultural, to anecdotal, all with an amazing sense of humour that really suited our lighthearted group. I can't recommend Denis enough to future groups.
Day 18: Muckross House & Killarney National Park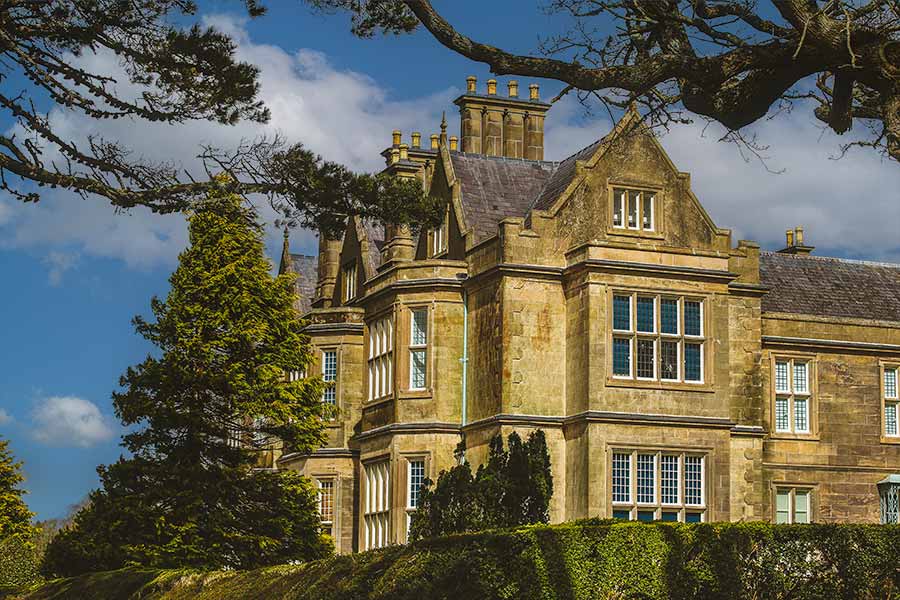 Your day starts with an exclusive tour of the majestic Muckross House, a Victorian masterpiece nestled within breathtaking landscapes.
This elegant mansion brims with history and grandeur, with beautifully furnished rooms that transport you back to a time of opulence. Accompanied by your knowledgeable guide, explore the house, learning about its storied past and illustrious guests, including the notable visit by Queen Victoria that sealed the mansion's prestige.
A Guided Journey through Killarney National Park
As the afternoon unfolds, immerse yourself in the natural splendour of Killarney National Park, Ireland's inaugural national park.
With your experienced guide leading the way, discover the park's myriad of wonders. From ancient yew woods echoing with timeless whispers to tranquil lakes that mirror the sky, the park is a haven for nature lovers. Keep an eye out for the native red deer that roam the park, their graceful presence adding to the enchanting atmosphere.
Culinary Delights at a Local Gastropub
Round off your day with a culinary adventure at one of Killarney's renowned gastropubs. Indulge in an array of dishes prepared with local ingredients, ranging from classic Irish fare to innovative international dishes.
Day 19: The Breathtaking Ring of Kerry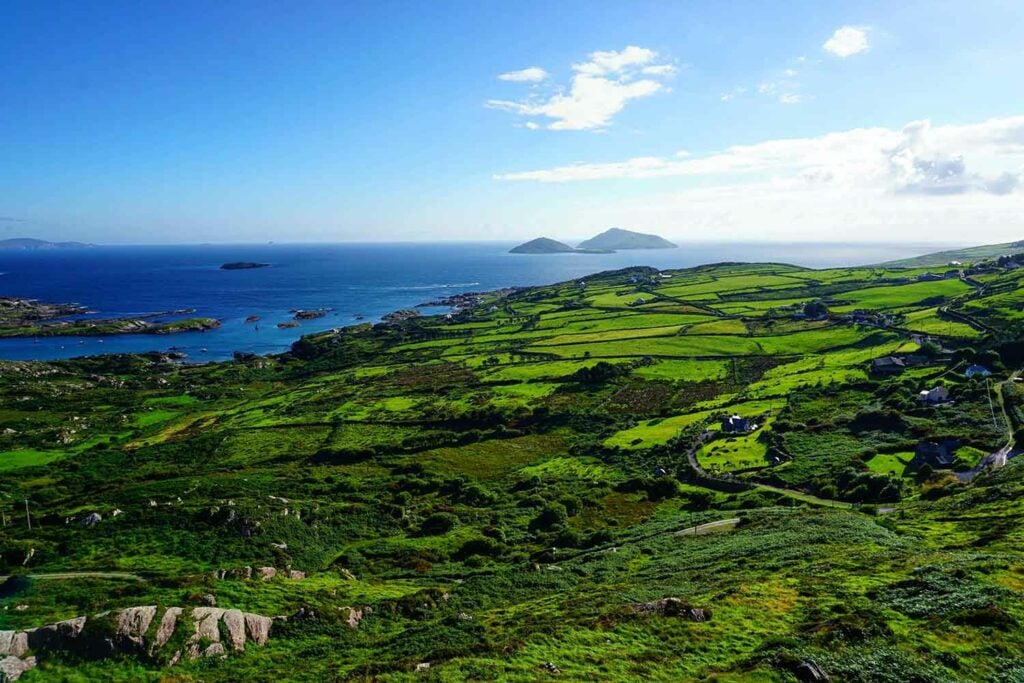 Set off on an unforgettable journey around the Ring of Kerry, a scenic circuit that circles the Iveragh Peninsula.
This private tour promises an intimate and personal exploration of one of Ireland's most famous routes, replete with rugged landscapes, idyllic villages, and awe-inspiring coastal views. With your expert guide at the helm, you'll learn the rich stories of this land and its people, enhancing your experience with captivating tales and historical insights.
Your adventure begins with the mystical Skellig Michael, a UNESCO World Heritage Site located off the Kerry coast. Though you can't land on the island on this tour, you'll get a chance to marvel at its rugged beauty from a distance. Your guide will share the history of this early Christian monastic settlement and its recent fame as a filming location for the Star Wars franchise.
Midday sees you in the vibrant town of Kenmare. Known for its culinary scene, Kenmare is the perfect place to pause for lunch. Choose from a variety of eateries, perhaps sampling a dish featuring local seafood, as you enjoy the hospitality of this charming town before resuming your journey around the Ring of Kerry.
Next, head to the quaint village of Sneem, affectionately known as the 'Knot in the Ring'. This charming town offers a slice of authentic rural Irish life with its traditional Irish cottages, welcoming pubs, and the picturesque Sneem River.
Continue to Ladies View, a scenic panorama that promises breathtaking views over the lakes and valleys of Killarney. Named after Queen Victoria's ladies-in-waiting who admired the view during their 1861 visit, this spot is a photographer's dream.

As the day comes to a close, return to Killarney.
Day 20: Journey to Cork and Hotel Check-In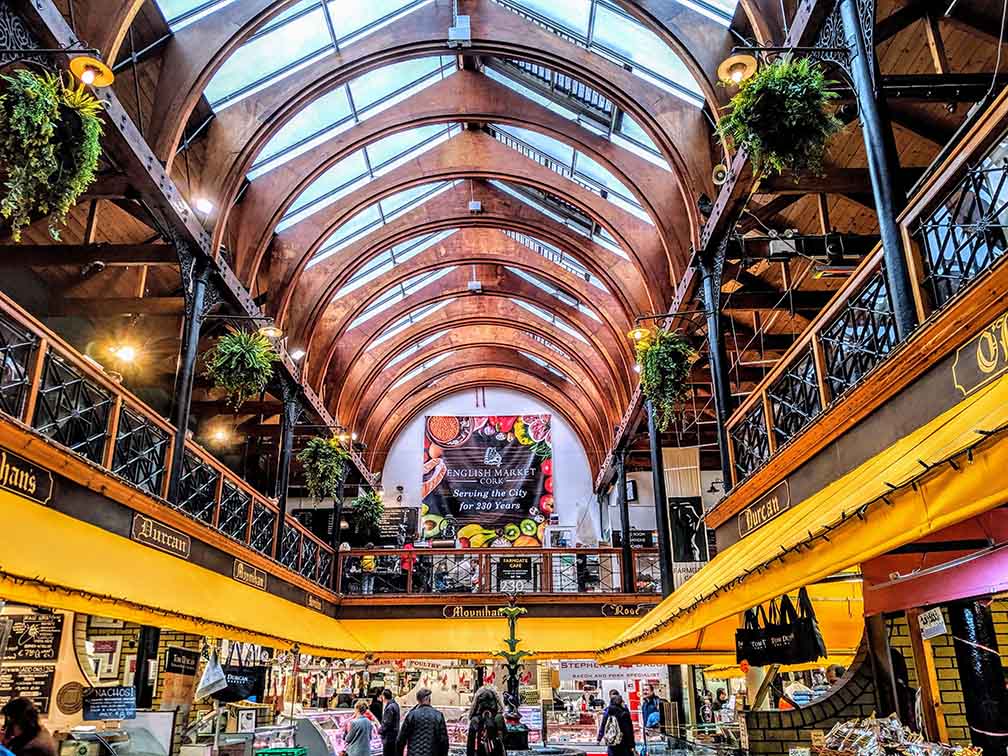 Today you will arrive in Cork, a city boasting a unique mix of cosmopolitan energy and historic charm.
Exploring the English Market
This culinary hotspot has been a cornerstone of Cork since 1788, offering a broad array of local and exotic produce.
Let your senses guide you as you navigate the market's vibrant stalls, soaking in the lively ambience and savouring the tantalizing aroma of freshly baked goods, cured meats, and artisan cheeses.
The transition from the foodie heaven of the English Market to a piece of Cork's compelling history with a visit to Cork City Gaol.
This imposing former prison, now a museum, offers a unique insight into the 19th-century Irish prison system. Guided tours allow you to explore the cells and learn about the everyday lives of its prisoners, while wax figures and sound effects create a realistic and evocative atmosphere.
An Evening at The Everyman Theatre
The Everyman, a beautifully restored Victorian theatre, is known for its diverse program that includes everything from drama and opera to comedy and musicals.
Spend your evening enjoying a captivating performance, soaking in the rich cultural scene that helps make Cork such a fascinating city to visit.
Prestige Tours did an excellent job planning a two-day trip for a group of 20 people for a 50th birthday celebration. They were very flexible with the itinerary and open to changes on the go. Highly recommend using them for any trips in Ireland. Slainte
Day 21: Blarney Castle Cork Countryside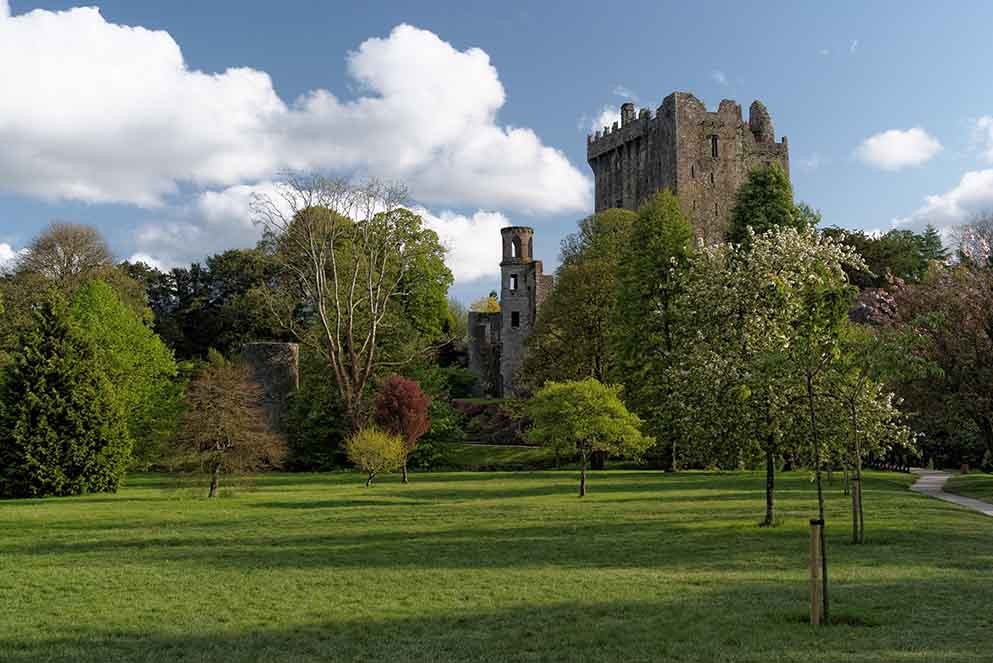 Begin your day at the iconic Blarney Castle, where you'll have the opportunity to kiss the legendary Blarney Stone. Your guide will share the history and myths surrounding this centuries-old tradition.
Afternoon at Fota Wildlife Park
Spend your afternoon at Fota Wildlife Park, home to a diverse range of animals from around the globe. Your guide will ensure you don't miss any of the park's highlights, from the cheetah run to the tropical house.
Conclude your tour in the historic port town of Cobh.
Once the departure point for millions of Irish emigrants, the town's maritime past is palpable. Take a leisurely stroll along the picturesque waterfront, soaking in the history and charm of this unique town.
Day 22: Private Tour of Kinsale and Charles Fort
Your guide will deliver you to the picturesque seaside town of Kinsale.
Discover the vibrant, narrow streets filled with colourful buildings and unique shops. Visit the star-shaped Charles Fort, a prime example of late 17th-century military architecture. Enjoy stunning harbour views here and learn about the fort's fascinating history.
Lunch in Kinsale, the Gourmet Capital of Ireland
Experience why Kinsale has earned its title as Ireland's Gourmet Capital. Indulge in a meal at one of the town's renowned restaurants, savouring the flavours of locally-sourced ingredients and fresh seafood.
Evening Return to Cork.
Day 23: The Medieval Marvels of Kilkenny
Your journey now steers you towards Kilkenny, an enchanting city steeped in medieval history.
Upon reaching your hotel and settling in, take time to unwind before you delve into the city's wealth of historic landmarks and cultural gems.
Private Exploration of Kilkenny Castle
In the afternoon, you'll enjoy a private tour of the iconic Kilkenny Castle, a majestic testament to Norman's influence.
Stand in awe of its grandiose architecture, roam through its elegantly adorned rooms, and meander around its vast parklands. As you traverse the castle grounds, your guide will provide a fascinating account of its long-standing history, painting a vivid picture of life in bygone eras.
Smithwick's Experience Kilkenny
Switch from the historic allure of Kilkenny Castle to the aromatic world of Irish ale brewing at the Smithwick's Experience Kilkenny.
Discover the craft behind one of Ireland's most popular ales. The guided tour leads you through the brewing process, recounting the Smithwick family's rich brewing history and culminating in a complimentary pint to enjoy.
An Evening at Kilkenny's Comedy Clubs
Let the laughter roll as you enjoy a live stand-up comedy show, adding a touch of humour and light-heartedness to your Irish adventure.
This refreshing experience offers a different, yet equally entertaining, slice of Irish culture to savour.
Our trip to Ireland was extraordinary and unforgettable! Prestige Tours matched us with Peter to guide and drive us around the country for 2 weeks. He was the perfect guide for us, meeting our every need along the way. From the pickup at Dublin airport, Peter helped and guided us in every way. He made suggestions for sites, attractions, meals, etc., kept us entertained with stories and Irish history, went the extra mile (or two!) to make sure we saw everything we wanted, as well as additional things we wouldn't have wanted to miss. Peter's first-class service made us feel like celebrities, from always helping us with our luggage and ensuring all of our hotels were to our satisfaction, to driving us safely on the unfamiliar Irish roads, to always ensuring we had dinner reservations, even last-minute. He introduced us to Irish pubs, food and history, as well as putting up with our fascination with castles! We left Ireland feeling like he is a part of our family and can't wait to return to such a special, remarkable country. Our family had a trip of a lifetime, and we have Peter and Prestige Tours to thank!
Day 24: Immersion in Kilkenny's Past
Discover the spiritual heart of Kilkenny with a guided tour of St Canice's Cathedral and its Round Tower.
Learn about the cathedral's storied past and climb the Round Tower for panoramic views of the city.
Continue your historical journey at the Medieval Mile Museum. Housed in a 13th-century church, the museum showcases Kilkenny's medieval history through an array of artefacts and interactive displays.
End the day with a leisurely walk along the banks of the tranquil River Nore, reflecting on the city's fascinating past and vibrant charm.
Day 25: Crystal Clear Beauty in Waterford
Begin your day with a journey to the sparkling world of the Waterford Crystal Visitor Centre. Guided by an expert, witness the meticulous craftsmanship that goes into each piece, from molten crystal to intricate works of art.
Lunch in the Historic Viking Triangle
Enjoy lunch amidst Waterford's historic Viking Triangle, an area steeped in a thousand years of history. Savour local cuisine in one of the charming eateries nestled among the ancient buildings.
Return to Kilkenny in the evening.
Today, you wave goodbye to the medieval charm of Kilkenny and journey back to the dynamic metropolis of Dublin. On arrival, check into your hotel and unwind, gearing up for a delightful evening in the Irish capital.
Dinner at a Michelin-Starred Restaurant
As your memorable Irish adventure nears its conclusion, mark the occasion with a sumptuous farewell dinner at one of Dublin's esteemed Michelin-starred restaurants. Here, you'll have the opportunity to taste the finest in Irish gastronomy with innovative dishes that elevate local flavours to a whole new level.
Grafton Street and St Stephen's Green
Following your gastronomic indulgence, step out into the fantastic Dublin evening for a leisurely walk. Begin at the bustling Grafton Street, a shopping haven by day and a hub of street performers and lively energy by night. From there, move on to the tranquillity of St Stephen's Green, a verdant oasis in the city's heart. 
Here, under the soft glow of the park's lights, soak in the unique blend of energy and tranquillity that embodies Dublin's appeal.
Day 27: Savoring Dublin's Delights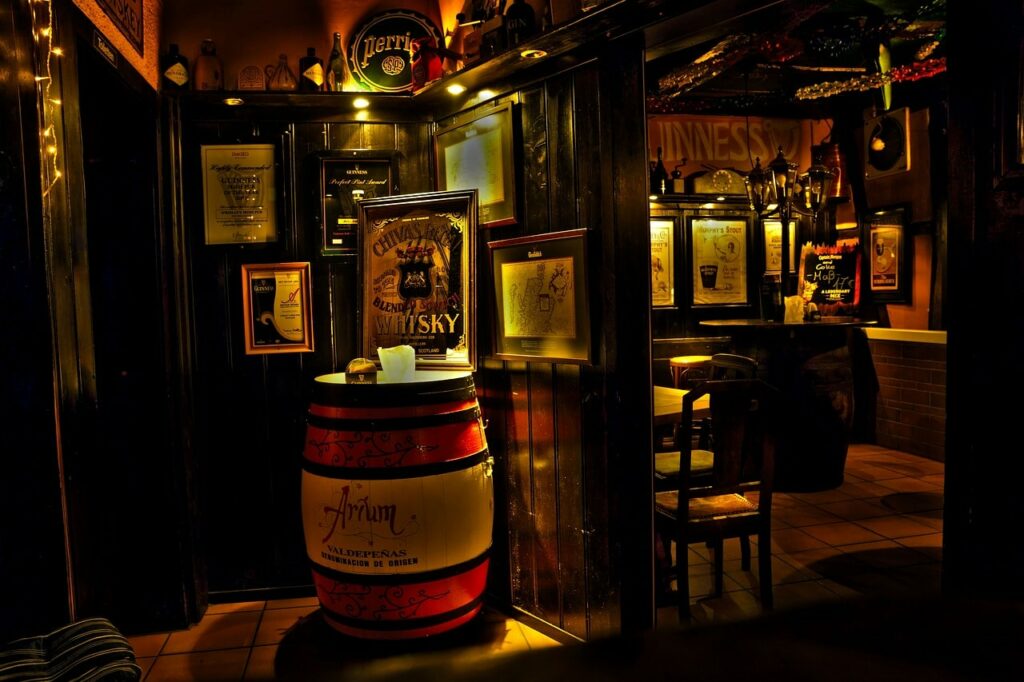 Immerse yourself in Dublin's rich heritage and dynamic city life on your final day in Ireland. Your itinerary is thoughtfully curated to bring you a blend of cultural experiences, from exploring a renowned whiskey distillery to leisurely sightseeing or shopping and culminating with a classic Irish send-off.
Private Tour of the Jameson Distillery Bow St.
Begin your day at the Jameson Distillery Bow St., the birthplace of Ireland's most renowned whiskey. Join your private guide in a comprehensive exploration of the distillery's storied past, delving into its rich heritage and understanding the intricate process of whiskey making. It's an enriching experience that uncovers the heart and soul of this globally celebrated Irish spirit.
An afternoon of Shopping or Exploring
Post the distillery tour, you have the afternoon to indulge in some last-minute shopping or sightseeing in Dublin. Hunt for quintessential Irish souvenirs, explore the city's hidden gems or immerse yourself in the city's hustle and bustle. No matter how you choose to spend this time, make sure to soak in these final moments in Dublin and create lasting memories.
An Authentic Irish Evening Farewell
Finally, what better way to say goodbye to Ireland than by raising a pint at a quintessential Dublin pub? This traditional Irish send-off is the perfect way to conclude your journey. With a pint of local brew in hand, toast to an incredible journey filled with unforgettable experiences and friendships made. Here's to Ireland – until you meet again!
Day 28: Departure from Dublin
Your 28-day driver-guided tour concludes as you depart from Dublin. Begin your journey home with a heart full of memories and a deeper appreciation for Ireland's beauty and culture.
Contact Prestige for a Bespoke 4 Week Ireland Itinerary
After 28 days of immersive exploration, your journey through Ireland will leave you with a profound connection to the Emerald Isle. From the bustling streets of Dublin to the breathtaking Cliffs of Moher, the rolling hills of Killarney, to the historic walls of Derry, this driver-guided tour provides an intimate understanding of Ireland's natural beauty, vibrant culture, and rich history.
However, this itinerary is just the beginning. Each trip to Ireland offers unique experiences shaped by its people, heritage, and landscapes. If this journey has sparked your interest, we invite you to contact us. Our dedicated team is ready to create a bespoke itinerary tailored to your interests and preferences, ensuring your next Irish adventure is as unique as you are. So let's start planning your dream journey to the heart of Ireland.
Our group of four women hired Prestige Tours for a 5 day excursion – Dublin-Galway-Killarney-Cork-Dublin. We couldn't have been happier with the service. It was a true vacation not having to worry about getting lost or where to eat/sleep. Accommodations were included with our tour and our knowledgeable guide, Peter, gave us awesome dining recommendations at every stop. During our drive, Peter entertained us with related facts and stories. Experiencing the local culture is paramount to me. Prestige Tours did not disappoint. Some highlights for me were attending the Celtic Steps show in Killarney, the delicious dining in Kinsale and browsing the shops in Dingle and Kenmare. Thank you to Peter and Prestige Tours for a memorable trip to your beautiful country!
Michele Curtis
★★★★★​
Merrie and I thoroughly enjoyed our fabulous three-day-tour experience! Ray was a wealth of information and is truly passionate about his calling. Neither of us had ever been to your beautiful country before and felt as if we received a crash course in Irish history, architecture, culture and politics in our short time there. Beginning with Dublin helped to set the stage and then we branched out on days two and three. Ray made adjustments in real time to our itinerary and showed us some places we would have never known to look for (such as the Dublinia museum and Kilmainham jail). We had a special entrance to view the tops of the Cliffs of Moher, visited the Irish National Stud Farm and thoroughly enjoyed our trip to Blarney Castle and the Rock of Cashell. Thank you so much for your attentiveness and providing an excellent service!
Emily Turner
★★★★★​
I cannot say enough good things about Prestige Tours!!!! We had a fantastic week with our driver Billy George- he was so friendly & easy to get along with. He provided us a great experience as we traveled around Ireland. We really enjoyed his company. He was a really great driver & very funny too! James our driver from Dublin to Belfast was also awesome! He provided great insight to the history of Ireland & the troubles in Belfast. I think my husband would have talked to him for 10days straight if given the opportunity. The vehicles were really clean & nice. The itinerary was perfect!! We loved Ireland & this experience soooo much.
Amanda S.
★★★★★​
We were in Europe for nearly five months and took several tours like this during our stay. This tour was by far the best, and Rosemary was by far the best guide we had. She was very friendly and informative and went out of her way to accommodate us (e.g. our numerous requests to stop for photo ops!). We not only saw the Giant's Causeway but so many other things on this beautiful tour such as the Dark Hedges, Dunluce Castle, Carrickfergus Castle, Larne, Antrim Coast, Glenarm Castle, Ballycastle, Ballintoy, Bushmill's Distillery, Torr Head, Carrick-A-Rede Island, and Rope Bridge, Portrush Golf Club. This tour is one of those experiences that we will cherish for the rest of our lives, and we are grateful to have had a guide like Rosemary as well as a very comfortable Mercedes in which to enjoy the drive. We highly recommend!
Jeff T
★★★★★​
If you're traveling to Ireland and looking for a reliable tour group, look no further than Prestige. We had the pleasure of using them and it was one of the best trips we took. Our driver James McCleave made the trip even better. He was kind, funny and an overall pleasure to be with. Our trip was a bit different from most bc we mixed in some of our own itinerary along with Prestige's recommendations. We saw family along the way and decided on plans as we went along, letting the way we felt that day guide us. James was reliable, flexible and went with the flow. He made recommendations along the way that we otherwise wouldn't have known about. Don't hesitate to use Prestige on your next booking!
Samantha Collins
★★★★★​