21 Day Private Tour of Ireland Itinerary
21 Day Irish Tour Itinerary Summary
Have a taste of everything that makes Ireland so special on our grand 21-day driver-guided tour itinerary.
This tour has been designed for guests who have never been to Ireland before and would like to enjoy most of our most iconic regions, attractions, and landscapes, whilst also discovering some of the lesser-known gems that give you a valuable insight into both the historic and modern face of the Emerald Isle.
All of our private tours are completely customizable, so if you have been inspired by something you have read on our grand 21-day itinerary but would like us to tailor it to your tastes or preferences, simply complete our online contact form and we will get started crafting a completely complimentary custom tour of Ireland just for you!
Day 1: Glendalough Valley - Powerscourt Distillery - Powerscourt House & Gardens - Vale of Avoca - Wicklow
Your private tour of Ireland begins as your driver-guide collects you either from the airport, your hotel, or any other location of your choosing. Your private guide will greet you in a luxury Mercedes-Benz vehicle to begin the tour as you set off on the journey of a lifetime.
Our first destination, Glendalough valley, meaning "The Valley of the two lakes" in County Wicklow is an ideal location to acquaint yourself with the type of quiet yet spectacularly powerful scenery, rich history, archaeology, and abundant wildlife you will encounter in Ireland.
Home to an Early Medieval monastic settlement founded in the 6th century by St Kevin, it is a remarkable place that will still your mind, inspire your heart, and fill your soul, with remnants and ruins strewn throughout, including the 100ft tall granite round tower.
You will also have the opportunity to enjoy watching a real sheepdog responding to his shepherd's calls and rounding the herd across the fields, across corrals, and eventually joining you for a spell!
Hovering at the foot of the Wicklow Mountains and set in The Old Mill House, this distinctive distillery is the home of Fercullen Irish Whiskey. Three custom Copper Pot stills form the centerpiece of this tour, made by skilled craftsmen the stills are made in the same way they were in the 1800s when the Milhouse was in use.
Powerscourt House & Gardens
Continuing on our journey will you visit Powerscourt house, garden, and waterfall. Powerscourt was voted one of the Top Ten Houses and Mansions Worldwide by the Lonely Planet Guide. The house offers you some of the best views in Ireland, including overlooking the breathtaking Sugarloaf Mountain.
The next stop for you will be The Vale of Avoca. One of the most scenic spots in County Wicklow, and perhaps best known for being the inspiration behind the "Meeting of the Waters" poem by Thomas Moore, who, in the 19th century, wrote, "There is not in the wide world a valley so sweet / As the vale in whose bosom the bright waters meet . . ." You can judge this for yourself as we visit the River Avoca at the junction of the Avonberg and Avonmore Rivers.
On the banks of the river, you'll find the Avoca Village, dating from 1723, where Avoca Handweavers was formed and features the oldest working woolen mill in Ireland.
We'll finish the day where you'll be dropped at the door of your Wicklow accommodation for your first evening in Ireland.
Day 2: Kilkenny Castle - St. Mary's Medieval Mile Museum - Cathedral Church of St Canice & Round Tower - Kilkenny
With so much more to discover, we set off from Wicklow in the morning to the undisputed heart and soul of Viking and Medieval Ireland, Kilkenny. Here you will have the chance to visit:
Kilkenny Castle was built in 1195. The castle was featured in Oliver Cromwell's re-conquest of Ireland in 1650 and was besieged during the Irish Civil War in 1922.
St. Mary's Medieval Mile Museum
St. Mary's Medieval Mile Museum brings to life Kilkenny's history as a medieval city. Displays of Kilkenny's civic treasures and replicas of some of the High Crosses of Ossory illustrate the local Gaelic monastic heritage and the ancient city's historic role in Ireland.
Cathedral Church of St Canice & Round Tower
St. Canice's has been a Christian site since the sixth century. It was built between 1202 and 1285 and is the second-longest cathedral in Ireland. Most of the cathedral is preserved in its original style.
After your visit, your driver-guide will drop you at your accommodation for the evening where you can enjoy a relaxing evening meal and some local entertainment.
Day 3: Rock of Cashel - Cahir Castle - Waterford - Kilkenny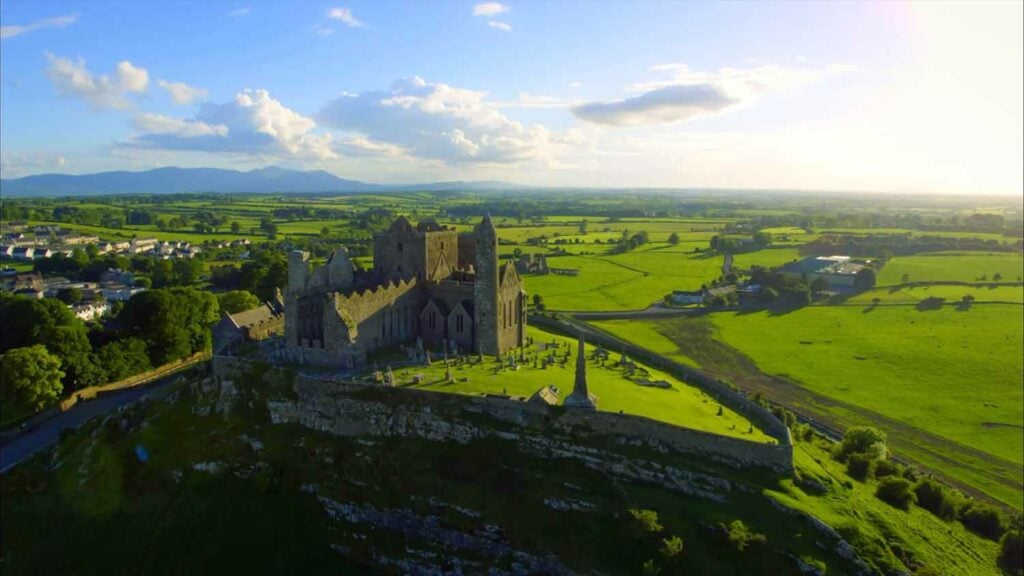 Today your driver-guide will collect you after breakfast and take you for a tour of the sights in the surrounding areas, starting at the Rock of Cashel: 
Contrary to the name this isn't actually a rock at all and instead is a remarkable and historically significant group of ancient chapels and medieval fortifications situated on prominent limestone outcrops. Climbing to the top of the Rock offers glorious views across the Golden Vale (so known because of the quality of the land) in County Tipperary. The Rock was the seat of ancient Irish Kings for over seven centuries and the patron saint of Ireland, St Patrick (you may have heard of him, there is a little celebration in his honor every year!) chose to make this the head of his church in Ireland. 
One of the country's most visited attractions, Most of the buildings on the current site date from the 12th and 13th centuries when the rock was gifted to the Church. Rock of Cashel offers you the chance to experience a simply astounding collection of Celtic art and ancient architecture, and we are sure you will be fascinated by the tales and legends you will hear on your visit.
Cahir Castle originally built in 1142 is one of the largest and most beautiful castles in Ireland, is sited on an island in the River Suir. The castle has seen its fair share of sieges, battles, and wars over the centuries and you can learn all about them on a guided tour and through the audiovisual displays throughout.
Following your visit to Cahir Castle, your tour will now take you to discover the most interesting attractions in the city of Waterford – the oldest in Ireland having been founded by the Vikings all the way back in 914 A.D
Some of the locations you can visit include:
Formerly a brewery of Ireland's other famous tipple Guinness, Waterford Distillery is where the first Irish whiskey to have been certified as organic by the Organic Trust was produced.
An excellent choice to discover more about the history of the city.
Enjoy an up-close insight into the centuries-old tradition of Waterford Crystal making. Feel the heat of the furnace and marvel at the skills of the master craftsmen.
Finally, after you've had a taste of our famous Irish spirit, we'll bring the day to a close as your driver-guide delivers you to your accommodation for the evening in Kilkenny.
Absolutely wonderful experience with Prestige Tours! Our driver, James McCleave was the most amazing tour guide, story teller, and historian. He is professional, funny, courteous, patient and sure knows his way around. He made suggestions for us to improve our trip, and we took them all and completely benefitted from his expertise. He was incredibly accommodating to my 91 year old mother and went well out of his way to make sure we had everything we needed. He made our trip the greatest experience we could have ever hoped for. I highly recommend Prestige for their customer care and service, knowledge, and communication (Michelle is fabulous!). We cannot wait to return to Ireland - James, I hope you'll be ready for us!
Day 4: Kilkenny - Clonmel - Dungarvan - Jameson Distillery Midleton - Cork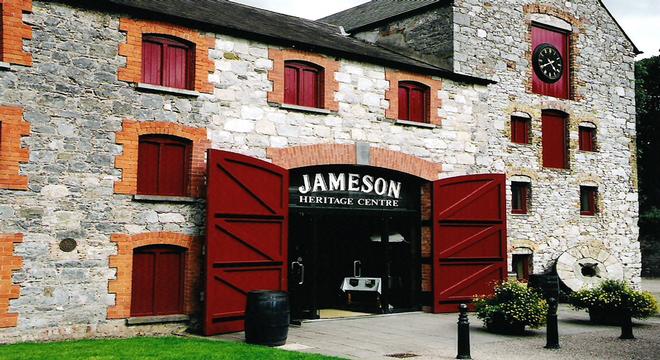 Today your driver-guide will collect you after breakfast and you will make your way to Cork.
Our first stop on the way will be for a spot of lunch in Clonmel, the largest town of County Tipperary. Here the residents are fiercely proud of the settlement's role in resisting the Cromwellian army which overran other local towns.
We will then make our way to the coastal town of Dungarvan where after enjoying a harbor view, you can choose to view the lavish Curraghmore Estate and Gardens – home of the Marquis of Waterford and his ancestors since 1170.
Jameson Distillery Midleton
Next, we'll head to the world-famous Jameson Midleton Distillery where you will come face to face with the world's largest Pot Still, and some of the finest whiskey distilled anywhere. 
You will take a deep dive into this Irish icon with their Behind-the-Scenes tour, a two-hour extended tour where you'll come out the other side knowing everything worth knowing about Jameson.
Once you've explored the distillery, your driver-guide will drop you at your accommodation for the evening in Cork. 
Day 5: Cork - Blarney Castle - Kinsale - Cobh - Cork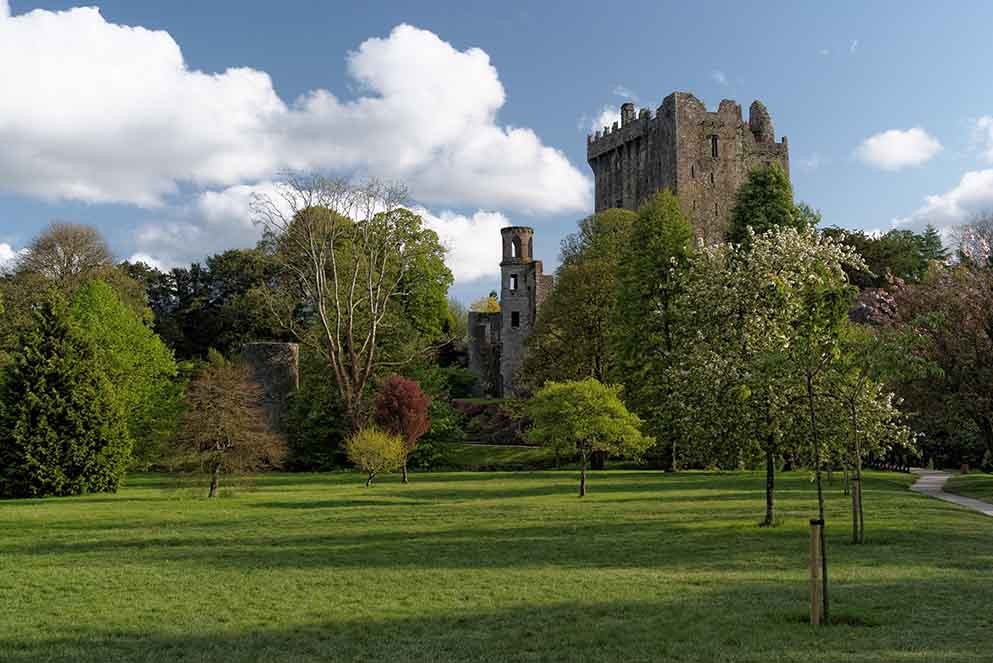 Today your driver-guide will collect you after breakfast and you will visit the beautiful sights of Co Cork:
Built nearly six hundred years ago by one of Ireland's greatest chieftains, Cormac MacCarthy, the castle has been attracting attention ever since. 
Home to the famous 'Blarney Stone,' legend has it that those brave enough to lean over the edge and kiss the stone will be granted the gift of eloquence and verbal dexterity. I'm sure you'll agree that would be a better souvenir of your trip than anything you could find in a gift shop!
Originally a medieval fishing port, the coastal enclave of Kinsale meaning 'Head of the Sea' is one of Ireland's most beautiful towns. Kinsale will captivate you with its spectacular waterfront setting, its medieval influences, and the rows of brightly colored buildings vying for attention with the glorious harbor that sustains the town.
Kinsale is internationally renowned for the number and quality of its famous eateries. It has been hailed as 'The Gourmet Capital of Ireland', with no shortage of cafés, pubs, and restaurants to suit every taste and budget.
In Cobh, you will visit Cobh Museum situated overlooking Cork Harbour with exhibitions that reflect the cultural, social, and maritime history of Cobh and the Great Island. Cobh has a long maritime history and is known throughout the world as the last port of call for the RMS Titanic. Cobh was also the departure point for over 2.5 million Irish emigrants, the single largest departure point in the country.
The "Queenstown Experience", located at the center, provides information on life in Ireland through the 18th and 19th centuries, the mass emigration, the Great Famine, and how criminals were transported to Australia for petty crimes.
Once you've finished exploring Cobh, your driver-guide will drop you at your accommodation for the evening in Cork. 
Day 6: Cork - Muckross House - Torc Waterfall - Killarney National Park - Killarney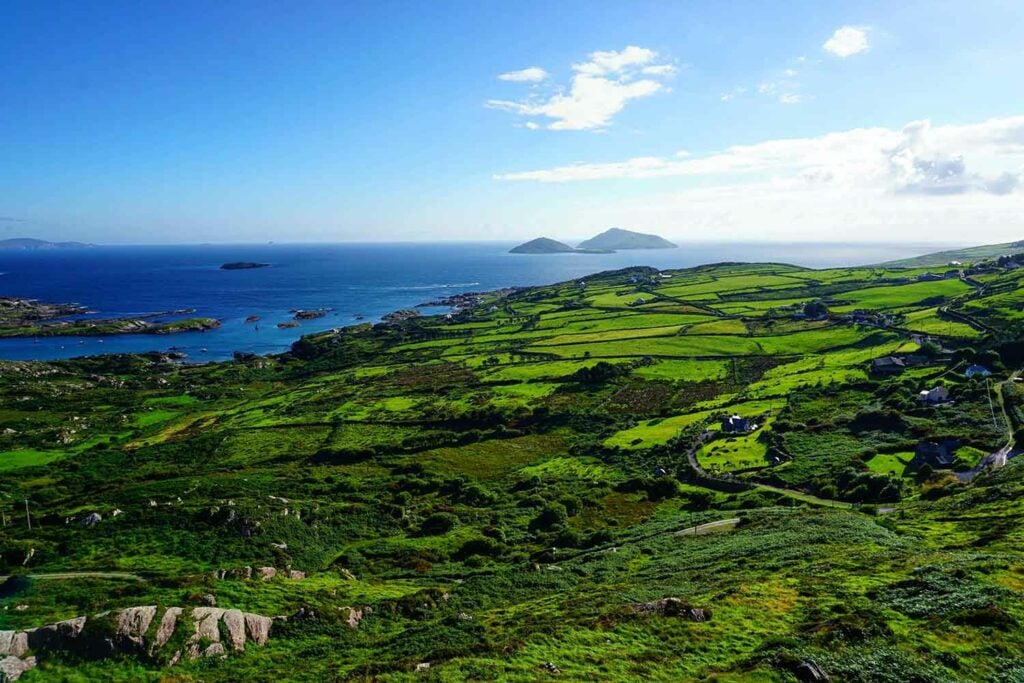 Today your driver-guide will collect you after breakfast and you will make your way to the famously beautiful Co. Kerry. There are many stops along the way, and when you arrive in Killarney you can enjoy taking a stroll through the streets of this quaint town to enjoy the great pubs, restaurants and enjoy the traditional Irish music on offer.
First is Muckross House. This nineteenth-century Victorian mansion bearing all the necessary furnishings and artifacts of the period is set against the outstanding beauty of Killarney National Park. As a focal point within Killarney National Park, Muckross House is the ideal base from which to explore this landscape.
You will visit the famous Torc Waterfall which is located close to the entrance to Muckross House. From the viewing point, you will have a view over the Middle Lake as well as the falls themselves.
You will marvel at the falls that are a 20-meter high, 110-meter-long cascade waterfall formed by the Owengarriff River as it drains from the Devil's Punchbowl corrie lake at Mangerton Mountain and sits at the base of Torc Mountain.
Designated a UNESCO Biosphere Reserve in 1981, Killarney National Park is known for its diverse nature and amazing scenery. 
The distinctive combination of oak woodlands, native red deer, mountain ranges, soothing lakes and magnificent waterfalls make this a nature lover's dream.
Finally, your driver-guide will drop you at your Killarney hotel for the evening.
We cannot say enough good things about every aspect of our experience with Prestige Tours. Prior to our arrival in Ireland, Michelle was helpful and responsive to our every question and concern. And our driver Peter was simply a delight! He was friendly, thoughtful, and incredibly well informed. It was clear he took great pleasure in sharing his beautiful country with us and we were delighted with his stories, his professionalism, and the fact that he seemed to know everyone in Ireland! He lived up to all the reports of the friendliness, humor, and joy of life of the Irish. We added something to our plans at the last minute and he was great about setting up the new activity and rearranging our itinerary to accommodate this change. We feel like we have a new best friend in Ireland! If you want to really experience all the best of your trip to Ireland, we highly recommend Prestige Tours! We will be calling them again.
Day 7: Ring of Kerry - Killarney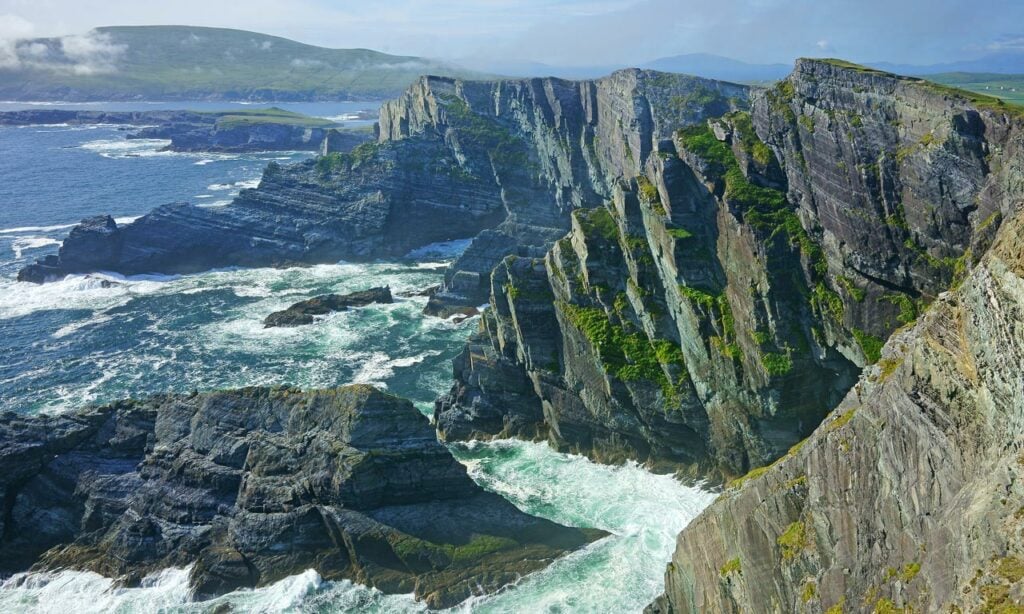 The incredible scenery of the Ring of Kerry beckons you today and as you travel along the road better known as the Ring of Kerry.
One of Ireland's most renowned driving routes, the Ring of Kerry, is a circular route that forms part of The Wild Atlantic Way. Within this 179km route, you'll find that each turn brings a new treat to the eye, from lakes, rivers, and waterfalls to grand houses and castles.
We will move on to explore the rugged scenery and astonishing views offered on the Dingle peninsula and if you're looking for a beautiful escape, then Slea Head drive will definitely be one of the highlights on this tour. It has been voted in the top 100 most beautiful places in the world. 
From here we will take the mountain pass up through Molls Gap, where you will see the staggering views of stunning Skellig Island.
After your Ring of Kerry tour, your driver-guide will return you to your Killarney hotel.
Day 8: Killarney - Bunratty Castle & Folk Park - Cliffs of Moher - The Burren - Galway
This morning after breakfast your driver-guide will collect you from your hotel and drive you north towards the Limerick Clare border to your first stop:
Bunratty Castle & Folk Park
You will take a tour of this iconic fortress; hear and see how the lords and ladies of this castle lived; hear stories of battles and bravery and enjoy stunning views across the idyllic Clare countryside.
The Folk Park features over 30 buildings in a 'living' village in a rural setting. Farmhouses, village shops, and streets are recreated and furnished as they would have been at "that time" according to their social standing, from the poorest one-roomed dwelling to Bunratty House a fine example of a Georgian residence that was home to the Stoddart's, the last family to occupy the Castle.
A UNESCO world heritage site towering 200 meters over the ocean and spanning over 8km of coastline, the cliffs are truly a testament to the power and grace of nature. The views are simply sublime, not just as you look along the cliffs themselves, but stretching out over the Aran Islands and all the while with the waves of the Atlantic crashing below. Your chauffeur will be able to inform you of all the folklore and myths that surround the cliffs, while the wildlife lovers amongst you should keep an eye out for the Puffins, razorbills, Kittiwakes, and Peregrine Falcons that call the area home.
Next on your tour is The Burren, a region famous internationally for its landscape and flora. Most of the Burren is designated a Special Area of Conservation to protect this extremely unusual habitat of Limestone Pavement, Calcareous Grassland, Hazel scrub, Ash/Hazel Woodland, Turloughs, Lakes, Petrifying Springs, Cliffs, and Fen.
After exploring The Burren, your driver-guide will drop you at your Galway accommodation for the evening for a well-earned rest!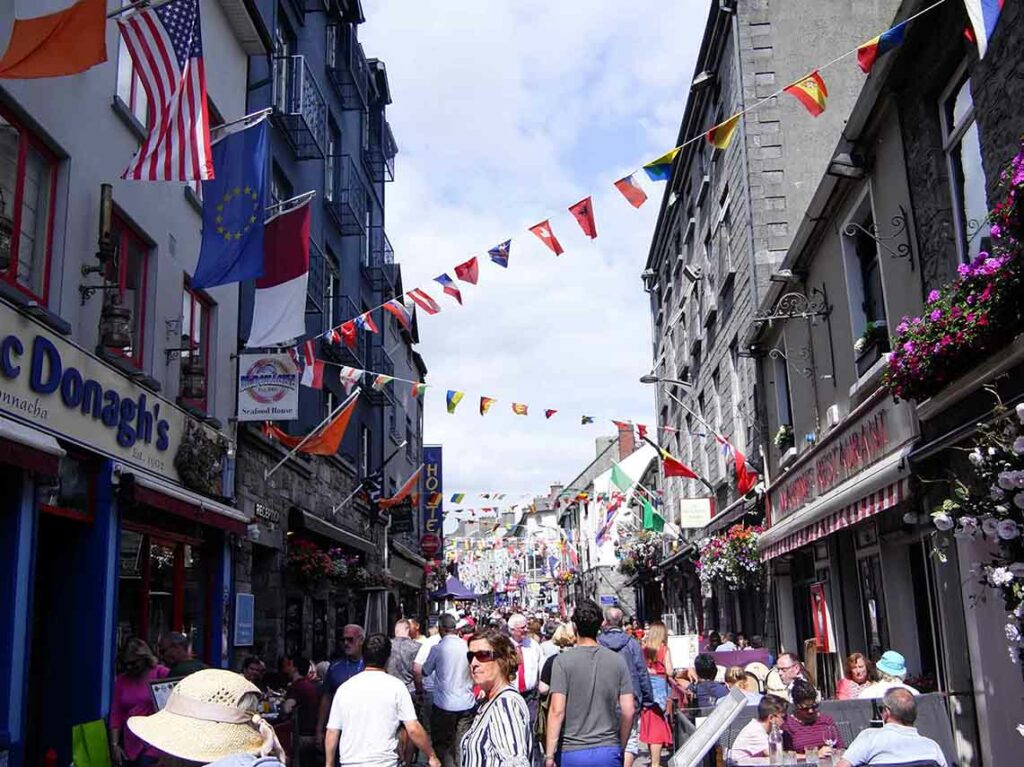 Today your driver-guide will be with you as you explore Galway itself – known as the "Cultural Heart of Ireland"
We will begin at the central square and head down the high street, where you might want to stop for a taste of the local cuisine in one of the many nearby cafes and restaurants (a traditional Irish stew for lunch perhaps!) 
With many street performers, singers and dancers you can enjoy walking and listening to the sights and sounds of the town as you head down to the Latin Quarter.
Here you will encounter Cobblestone and brick pedestrian-only streets, outdoor dining, interesting shops, street vendors, and colorful historic buildings as you approach the Spanish Arch – originally constructed in 1584. Standing where the River Corrib churns wildly into the Atlantic Ocean, there is no better place to get a sense of the port town that Galway once was. 
From here you can enjoy the sunset over Galway Bay. With a beautiful walk near the seaside, you can enjoy the tranquility of the seagulls, swans, and old boats along the harbor.
You might want to spend the evening in the 'Crane Bar'. A pub whose traditional music sessions will transport you to another age before departing back to your accommodation for the night.
I truly cannot say enough good things about this company. From day one Michelle was an absolute pleasure to work with. She was incredibly quick to respond to my questions, was thoughtful in all recommendations, and in my opinion went well above my expectations in helping me plans a trip I will remember forever. Our drivers were so wonderful and a joy to be around. They were knowledgeable and provided a wealth of information as well as being so friendly and accommodating. I will recommend this company to anyone and everyone!
Day 10: Connemara National Park - Kylemore Abbey - Galway
Today we'll leave Galway and head to the stunning Connemara for the morning:
Connemara is breathtakingly beautiful… There are so many areas to explore… Sky Road, Roundstone, Dogs Bay, Omey Island, Inishbofin Island, Killary Harbour, Doolough Valley… I could go on & on. Along with its vast expanse of mountains, heathland, and lakes, connemara is also known for its traditional Irish culture and contains a major part of the Connacht Irish-speaking Gaeltacht – a key part of the identity of the region.
The National Park itself covers 3,000 hectares of scenic mountains, expansive bogs, glorious grasslands, and enchanting woodlands, a place where you will have the chance to see Connemara ponies, red deer, and birds including peregrine falcons.
Kylemore Abbey & Victorian Walled Garden
Next, it's the iconic Kylemore Abbey. Built-in the late 1800s, Kylemore is now owned and run by a community of Benedictine Nuns who have been in residence here since 1920.
You will end your day with a drive back to your accommodation in Galway.
Day 11: Galway - Sligo Abbey - Donegal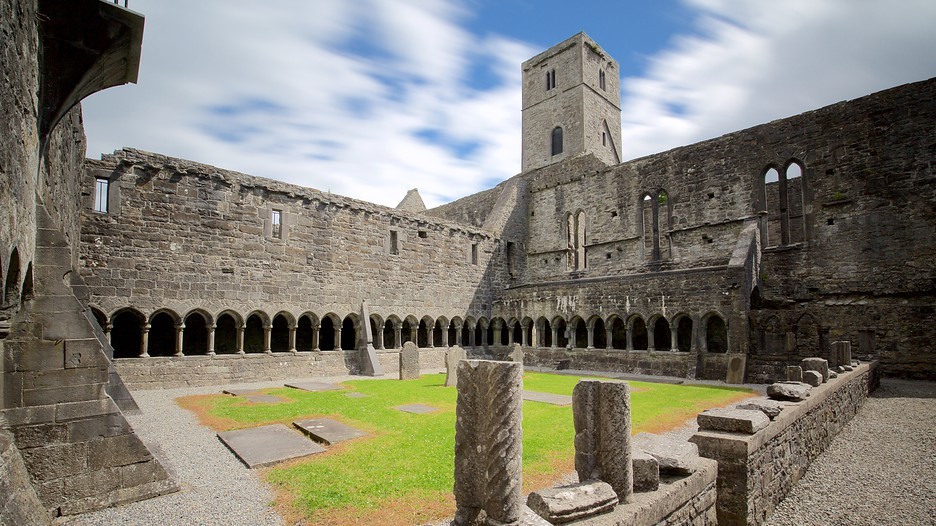 This morning we'll leave Galway behind and drive north to Co. Donegal. First making a stop at Drumcliffe Church and the grave of one of Ireland's most famous poets W. B Yeats, we will then make a stop in Sligo town for some lunch and visit Sligo Abbey.
Sligo Abbey is known for its literary heritage and rugged countryside, and features carved tombs and a 15th-century altar. Sligo County Museum close by displays memorabilia of local poet W.B. Yeats, paintings, and Stone Age artifacts.
You will visit Donegal Castle. In the 15th century Red Hugh O'Donnell, an Irish nobleman, ruler of Tyrconnell, and head of the O'Donnell dynasty, built this castle as his personal fortress after escaping five-year imprisonment in Dublin Castle where he had been held by the English.
We'll then bring the day to a close and drop you at your accommodation in Donegal.
Day 12: Glencolmcille - Killybegs - Slieve League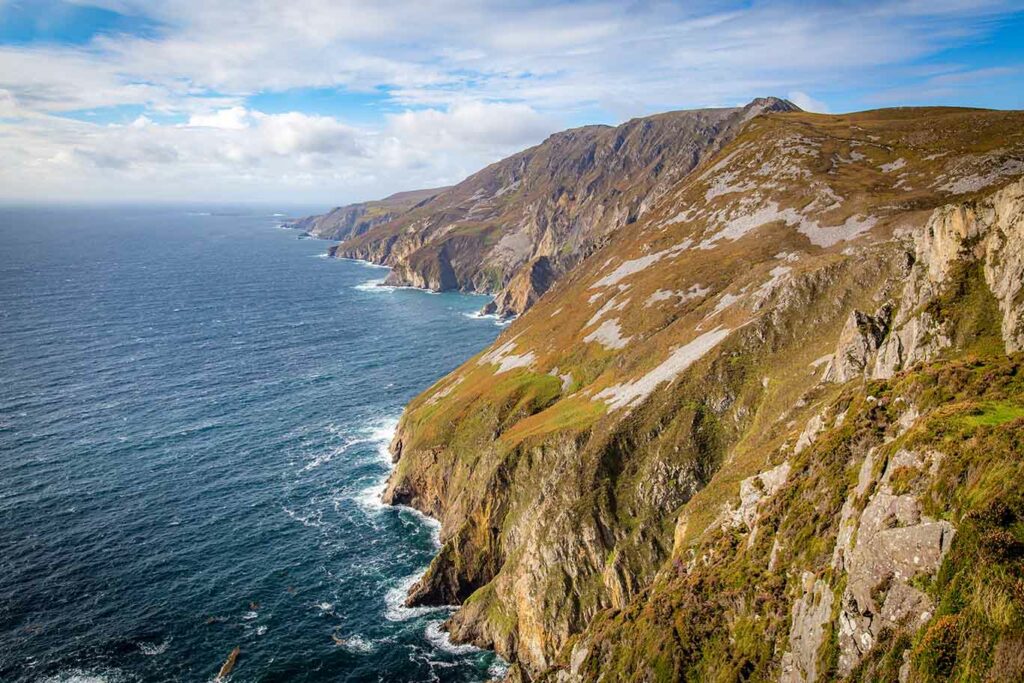 Today you will visit the unspoiled village of Glencolmcille,  a place of tremendous natural beauty and changing colors… mountains, lakes, sea cliffs, and beaches. Resplendent with stone walls and Fuschia-bordered lanes. It is an ancient corner of Ireland witnessed by the sites of dwellings and the tombs of the Megalithic period and by the cross inscribed stones of early Christianity. If you were hoping to discover an unspoiled environment on your Irish vacation then we think you will love Glencolmcille.
Then you will move on to Ireland's largest fishing port Killybegs before arriving at Slieve League – nearly 3 times higher than the Cliffs of Moher and said to be one of the highest and finest cliffs in Europe.
After you've had a chance to explore Slieve League, we'll head back to your accommodation in Donegal. 
We are so glad we decided to travel with Prestige! What a lovely company. Michelle, Elaine, and Denise worked so hard to make sure every aspect of our trip was perfect, and we could not have asked for a better guide than Gerry! We seriously appreciate the planning, hard work, and help you all put into this. The trip was wonderful! We will absolutely be recommending your company in the future to anyone interested in a trip to Ireland and Northern Ireland. Wishing you all the very best, with much thanks!
Day 13: Donegal - Derry Tour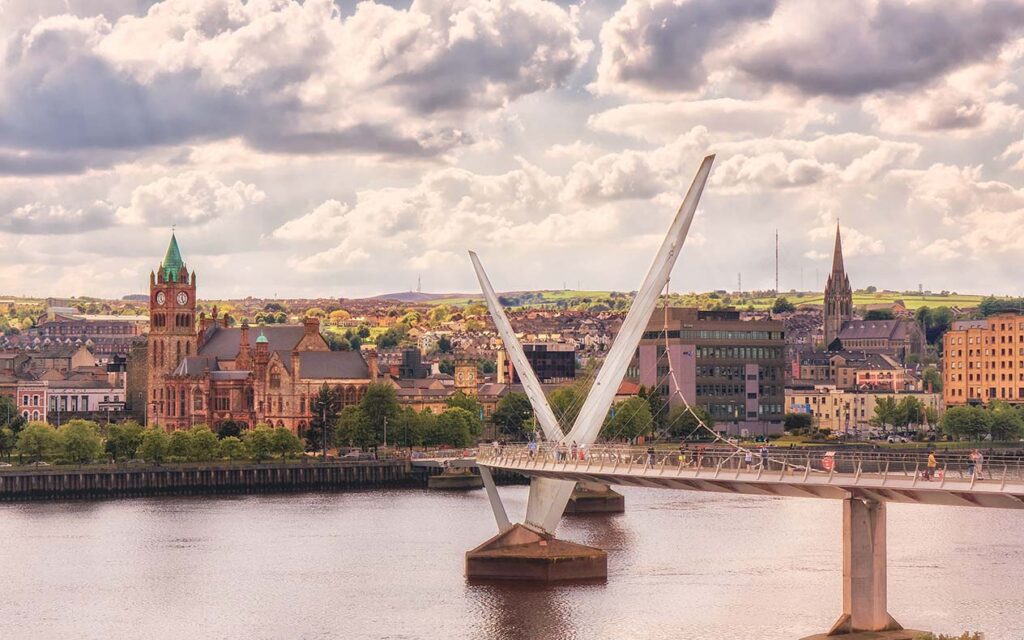 This morning after breakfast, we will head for Derry in Northern Ireland, first visiting the Guildhall, the heart of Derry since 1887:
Whilst the building itself is a joy to view with its Neo-Gothic style and Tudor sensibilities, you will find that the magnificent stained glass windows tell a tale of city life representing everything from fishmongers to musicians, and its clock which was modeled on London's Big Ben.
If you are visiting Ireland then the likelihood is that you at least have a general idea about the conflict that came to be known as "The Troubles". The Museum of Free Derry is an excellent resource for delving deeper into this topic, focussing as it does on the fight for civil rights in the 1960s and the Free Derry Irish nationalist movement in the early 1970s.
Originally built between 1613 and 1619 the famous walls of Derry are fully accessible by foot.
From the walls, you will enjoy views of the spired St. Columb's Cathedral, see artifacts from the 1688 Siege of Derry, the Peace Bridge, the Tower Museum, the Free Derry Wall, and of course the 22 cannons that line the circumference of the walls.
Once you've explored the walls, your driver-guide will drop you at your accommodation for the evening in Derry.
Day 14: Derry - The Causeway Coast - Belfast
This morning after breakfast, your driver-guide will collect you and head towards the North Coast, first stopping at: 
Enjoy a relaxing stroll through the 6,000-year-old sand dunes at Portstewart Strand, known as one of Northern Ireland's finest beaches, and take in the views of Inishowen headland and Mussenden Temple perched atop the cliffs.
The Strand will also be familiar to fans of the TV series "Game of Thrones" as it stood in for the coast of Dorne.
Discover Northern Ireland's only UNESCO World Heritage site, the incomparable Giant's Causeway, and hear the legend about the Giant Finn MacCool and how the unique standing stones came into existence.
The Causeway comprises around 40,000 mostly hexagonal basalt columns descending gently into the sea. Truly one of the most spectacular sites in all of Ireland you will want to make sure your camera has plenty of space to accommodate the number of pictures you will want to capture of this incredible natural formation and breathtaking scenic views from the Causeway.
Carrick-A-Rede Rope Bridge
The first rope bridge between the mainland and Carrick-a-Rede Island was erected in 1755 and mainly used by fishermen. The current bridge may be a lot safer, but with the view of the Ocean below, you can still get the blood pumping!
Your driver-guide will take you north to probably the best-known whiskey distiller in the world, Bushmills which incidentally is the home to the world's oldest licensed whiskey distillery, with records dating back to 1608!
Your guided tour will let you take in the best the distillery has to offer and learn about the copper pot stills and the production process of their triple distilled whiskeys before enjoying a premium whiskey tasting experience.
Your driver-guide will then drop you at your accommodation for the evening in Belfast.
Day 15: St George's Market - Belfast City Hall - Belfast Castle
This morning after breakfast, your driver-guide will collect you and take you on a tour of Belfast.
Your driver-guide will first take you to St George's Market, named the UK's best large indoor market, it is a mecca for foodies, artists, and artisan works. Relax and enjoy a snack while you take in the history of this amazing building.
Your next stop on this guided day tour will be Belfast City Hall. In 1888 Queen Victoria granted Belfast City Status and it was agreed that a grand and magnificent building should be erected to reflect this new status. City Hall opened its doors on the first of August 1906, at a time of unprecedented prosperity and industrial might within the city.
Your next port of call on today's tour is the beautiful Belfast Castle. Sitting in a prominent position in Cave Hill Country Park, the castle, built-in 1862, is situated in what was the third Marquis of Donegall's deer park. The castle is Scottish baronial in style and the balconies and gardens afford the most spectacular views across the lough and city. 
Finally, after a long day touring, your driver-guide will drop you off at your Belfast accommodation for a well-earned rest.
Prestige customized our tour for 10 days. It was beyond our expectations. Damien, our driver, was very informative and funny to make our journey more enjoyable. I would highly recommend them for a great experience.
Day 16: Titanic Quarter - Gaeltacht Quarter - Political Mural tour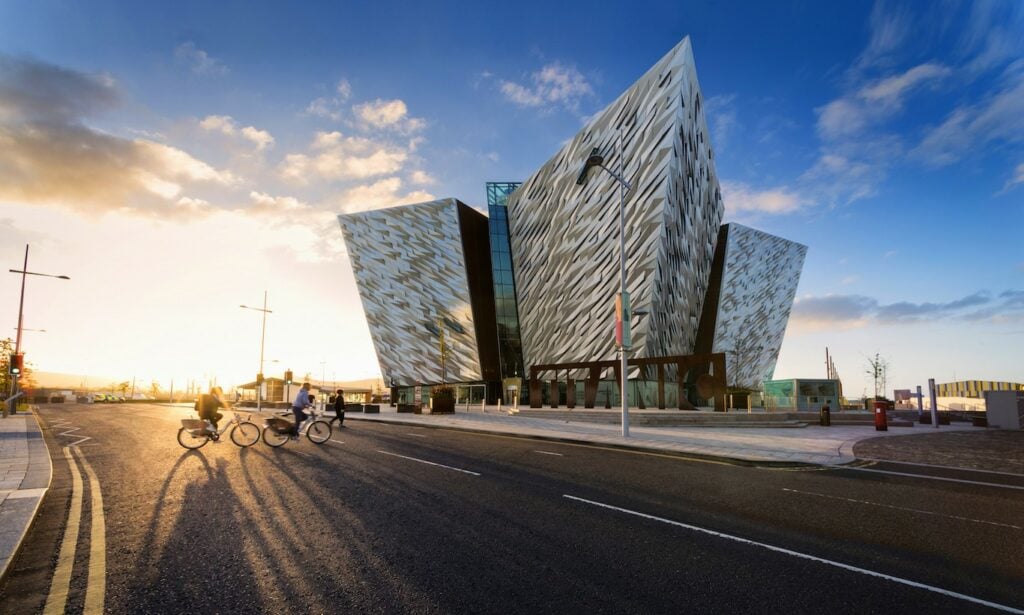 This morning, your driver-guide will collect you from your hotel and see more of the sights on offer in Belfast. They say you can never run out of things to do in Belfast, however, seeing as we are limited in how long this itinerary can be we would recommend:
Visit the world-class interactive museum on the site where the fateful ship was built back in 1911. 
Here you will hear the locals speaking in their traditional Gaelic Irish language and many traditional pubs.
Learn the complicated history of the troubles explored through a series of famous murals throughout the city, and eventually arrive at the Peacewall where you can even write your own message.
We'll then return to your accommodation for the evening in Belfast.
Day 17: Belfast - Newgrange - Hill of Tara - Dublin
This morning, your driver-guide will collect you from your hotel and make our way towards Trim, Co Meath.
Your first stop on this tour will be the Brú na Bóinne Visitor Centre: Starting from here, your first visit will be Newgrange which contains prehistoric monuments constructed 5,200 years ago, making them older than Stonehenge and the Great Pyramids. Described as an Ancient Temple, Newgrange is a place of astrological, spiritual, religious, and ceremonial importance.
Your next call is Tara, the inauguration place and seat of the High Kings of Ireland in the first millennium A.D. The Hill of Tara is an ancient ceremonial site dating to around 2,500 BC, stories about which appear in Irish mythology. And just a few miles along the road is your last visit of the day, the Battle of the Boyne Visitor Centre. The center is in the recently restored 18th century Oldbridge House on the banks of the River Boyne, here you will get an in-depth insight into the battle between King William III and his father-in-law King James II that took place in 1690, a long time ago, and yet still has ramifications in Ireland today. Learn the story of one of the most important battles in Irish history.
Your day will come to a close as your driver-guide will drop you at your accommodation in Dublin.
Our experience was great! Our driver-guide Denis O'Sullivan was amazing and the group had a phenomenal time with him. Not only was his driving absolutely impeccable and impressive given the very very tight and windy roads going to the Cliffs of Moher, but his commentary was wonderful. He had the right balance of informational approach, to cultural, to anecdotal, all with an amazing sense of humour that really suited our lighthearted group. I can't recommend Denis enough to future groups.
For the remainder of your holiday, you will spend the time with your guide getting to know the capital of Ireland, Dublin. Famous for the friendly locals, captivating historical past, and the hugely important figures who have come from the city such as James Joyce, Oscar Wilde, and Bram Stoker – so much so that it has been recognized by UNESCO as being a world city of literature, unfortunately, you won't have time to read any books on this tour as your driver-guide has so many fascinating and interesting spots to show you!
O'Connell Street & the General Post Office (GPO)
A must-see for anyone with an interest in Irish history or the Easter uprising. The GPO was the spot where the Proclamation was read in 1916, for the very first time.
The oldest and perhaps most architecturally beautiful university in Ireland, founded in 1546 by King Henry VIII you will also find the hallowed 'Book of Kells' from 384 AD within its walls.
You'll never see two identical doors as you wander through Dublin city, and their unique and colorful charm gives the city an unmistakable character.
The homeland of Ireland's national drink. We don't believe that Guinness tastes the same anywhere else in the world, and you find out if you agree or not by pouring your own pint in the factory where it all started.
Romantics will wish to visit the place of rest for the patron saint of lovers, St Valentine himself at Whitefriar Street Church.
Enjoy the traditional bars and music in the city's Temple Bar district.
See if you can trace your roots back to Ireland at the Irish Immigration Museum.
Built-in 1796 it served as a prison in former times where many Irish revolutionaries were imprisoned and executed by the British.
Commissioned by King John all the way back in 1204, and although the majority of what you can see now was actually constructed in the 18th century, the Record Tower from that era is still intact.
The castle is still in use for formal occasions and functions by the Irish government today and tours of the grounds are available at regular intervals.
Alas, all good things must come to an end and on the final day of your journey, we will collect you from your accommodation and deliver you to the airport. 
Depending on what time your flight departs we would be happy to arrange a final authentic Irish breakfast/lunch/dinner/whiskey-at-any-old-time for you to enjoy before you depart our shores at the end of an extraordinary journey that has seen you travel the length and breadth of our beautiful little island country.
Create your perfect custom tour of Ireland
If you'd like us to book your accommodation or have any special requests, let us know in the comments.
Our group of four women hired Prestige Tours for a 5 day excursion – Dublin-Galway-Killarney-Cork-Dublin. We couldn't have been happier with the service. It was a true vacation not having to worry about getting lost or where to eat/sleep. Accommodations were included with our tour and our knowledgeable guide, Peter, gave us awesome dining recommendations at every stop. During our drive, Peter entertained us with related facts and stories. Experiencing the local culture is paramount to me. Prestige Tours did not disappoint. Some highlights for me were attending the Celtic Steps show in Killarney, the delicious dining in Kinsale and browsing the shops in Dingle and Kenmare. Thank you to Peter and Prestige Tours for a memorable trip to your beautiful country!
Michele Curtis
★★★★★​
Merrie and I thoroughly enjoyed our fabulous three-day-tour experience! Ray was a wealth of information and is truly passionate about his calling. Neither of us had ever been to your beautiful country before and felt as if we received a crash course in Irish history, architecture, culture and politics in our short time there. Beginning with Dublin helped to set the stage and then we branched out on days two and three. Ray made adjustments in real time to our itinerary and showed us some places we would have never known to look for (such as the Dublinia museum and Kilmainham jail). We had a special entrance to view the tops of the Cliffs of Moher, visited the Irish National Stud Farm and thoroughly enjoyed our trip to Blarney Castle and the Rock of Cashell. Thank you so much for your attentiveness and providing an excellent service!
Emily Turner
★★★★★​
I cannot say enough good things about Prestige Tours!!!! We had a fantastic week with our driver Billy George- he was so friendly & easy to get along with. He provided us a great experience as we traveled around Ireland. We really enjoyed his company. He was a really great driver & very funny too! James our driver from Dublin to Belfast was also awesome! He provided great insight to the history of Ireland & the troubles in Belfast. I think my husband would have talked to him for 10days straight if given the opportunity. The vehicles were really clean & nice. The itinerary was perfect!! We loved Ireland & this experience soooo much.
Amanda S.
★★★★★​
We were in Europe for nearly five months and took several tours like this during our stay. This tour was by far the best, and Rosemary was by far the best guide we had. She was very friendly and informative and went out of her way to accommodate us (e.g. our numerous requests to stop for photo ops!). We not only saw the Giant's Causeway but so many other things on this beautiful tour such as the Dark Hedges, Dunluce Castle, Carrickfergus Castle, Larne, Antrim Coast, Glenarm Castle, Ballycastle, Ballintoy, Bushmill's Distillery, Torr Head, Carrick-A-Rede Island, and Rope Bridge, Portrush Golf Club. This tour is one of those experiences that we will cherish for the rest of our lives, and we are grateful to have had a guide like Rosemary as well as a very comfortable Mercedes in which to enjoy the drive. We highly recommend!
Jeff T
★★★★★​
If you're traveling to Ireland and looking for a reliable tour group, look no further than Prestige. We had the pleasure of using them and it was one of the best trips we took. Our driver James McCleave made the trip even better. He was kind, funny and an overall pleasure to be with. Our trip was a bit different from most bc we mixed in some of our own itinerary along with Prestige's recommendations. We saw family along the way and decided on plans as we went along, letting the way we felt that day guide us. James was reliable, flexible and went with the flow. He made recommendations along the way that we otherwise wouldn't have known about. Don't hesitate to use Prestige on your next booking!
Samantha Collins
★★★★★​