10 Day Private Tour of Ireland Itinerary
10 day Best of the Wild Atlantic Way
Our 10-day driver-guided Wild Atlantic Way itinerary has been designed to deliver the best of this iconic driving route condensed into ten days. 
The Wild Atlantic Way is an epic journey along the West Coast of Ireland where you will experience the raw power and awe-inspiring beauty of the waves of the Atlantic crashing off epic cliff faces, the untamed nature of Ireland's natural beauty, historic medieval castles, and of course some of our most quaint, picturesque and authentic little villages and towns.
This itinerary offers a little bit of everything that makes Ireland such an incredible place to visit so let's take a look at what we can comfortably fit into this ten-day guided tour.
Now it didn't slip our attention that Dublin isn't exactly on the West Coast of Ireland, it is however the nation's most popular airport for international arrivals, and will give clients the opportunity to visit the Capital before setting off to the coast with your driver-guide.
Your driver-guide will be there to collect you from the airport. You have the choice of going directly to your accommodation for the evening or taking a guided tour of the city to visit:
As you reach the city center your guide will explain why Georgian doors that adorn the streets and squares are in such distinctive and colorful style.
In the heart of Dublin, tucked away down cobbled lanes, you'll find Trinity College Library – where notable alumni and influential literary figures like Oscar Wilde and Samuel Beckett spent many hours studying! Here you'll find the world-famous Book of Kells. Dating to 800 AD, this ornately decorated vellum book contains the four Gospels in Latin and is the most famous of the early medieval manuscripts. Truly a privilege and a pleasure to behold.
O'Connell Street and the General Post Office (GPO)
For those who want to delve into some modern Irish history your guide will take you to O'Connell Street and the General Post Office (GPO), where the Proclamation was read on Easter Sunday 1916, for the very first time.
If you have any time left then The National Gallery would make for a fine stop before you enjoy a good hearty traditional Irish meal and retire to your accommodation in Dublin in time for a good night's sleep and ready to get wild on the coast!
Day 2: Dublin - Enniskillen - Donegal - Sliabh Liag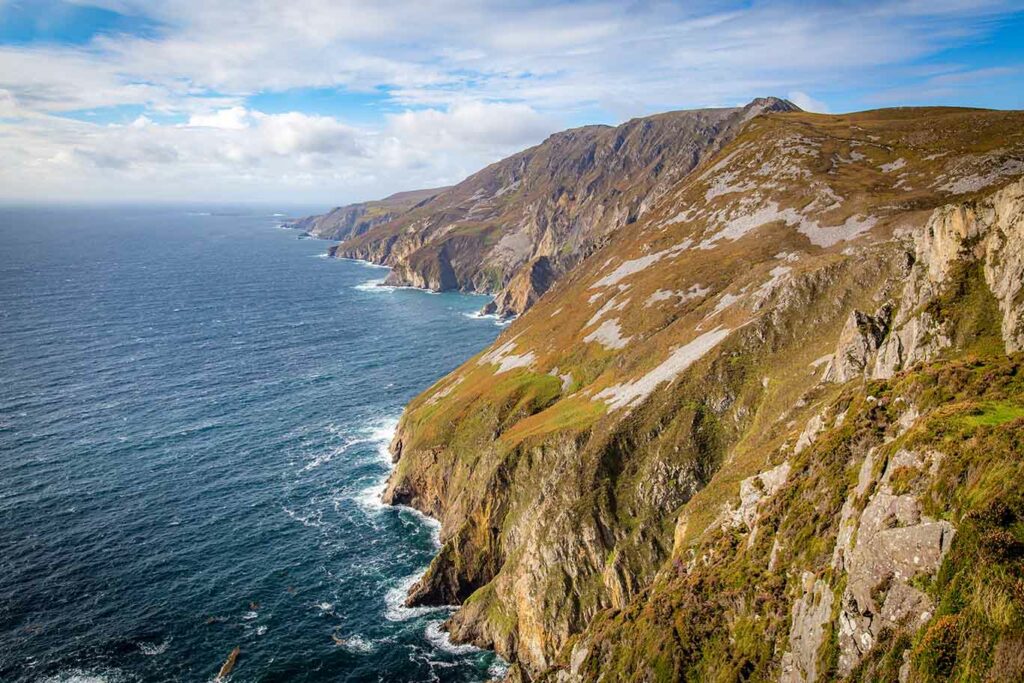 Your driver-guide will collect you in the morning as you get set to make your way to the West Coast and your first sight of the Atlantic Ocean from Ireland!
Driving across the Midlands of Ireland and admiring the gorgeous landscapes on show will have your appetite peaked, so we will break up the travel time by stopping for lunch in the historic little market town of Enniskillen – built entirely on an island and surrounded by the River Erne.
Sliabh Liag (Slieve League)
Once we have refueled on some local Irish fare, it's onto the Emerald Isle's highest Sea Cliffs, Sliabh Liag. What a way to mark your first sighting of the Atlantic as your peer into the horizon from the peak of the cliffs, standing an astonishing 2000 feet above the ocean below.
It's then back to Donegal for the rest of the afternoon and evening. Despite sharing its name with the entire county, Donegal is a small charming, and authentic little town with a history dating back to the 15th century. Your guide will take you to visit the ruins of Donegal Franciscan Abbey which is found in an absolutely stunning setting at the edge of the harbor. You will also want to explore Donegal Castle to get a sense of the history and heritage that permeates the structure that was built by Red Hugh O'Donnell, leader of one of the most important clans at the time.
Your guide will be on hand to provide suggestions for bars and restaurants that will suit your tastes in the evening, whether that is on the fine-dining end, getting up onto your feet to the tune of some traditional Irish band music, or sharing a pint of Guinness or two with the locals in a nearby bar!
From your Donegal accommodation, you will set off with your driver-guide south towards County Sligo visit:
Your driver will take the coastal road to Mullaghmore Head which offers some of the most breathtaking views not only in County Sligo but in all of Ireland! Mullaghmore Head is known for its huge waves and attracts surfers all year round looking to capture the large swells, surges, and waves that have become synonymous with the area.
While for the budding photographers in the group be sure to keep looking inland as well as the vista on display when the stunning Classiebawn Castle comes into view against a mountain backdrop is simply breathtaking.
We will then make a stop in the quaint little Mullaghmore village and take a relaxing stroll along the beach and observe the fishing boats before taking the opportunity to enjoy some of that fresh seafood in one of the local restaurants for a fabulous lunch.
Once we are back in the vehicle you will soon see your next destination appear on the horizon. Part of the Dartry Mountains range and known as Sligo's table mountain, the Ben Bulben is an enormous rock formation forged during the Ice Age (the one that happened 320 million years ago – not the animated movie that your kids or grandkids might enjoy!) that earned its nickname thanks to the fascinatingly flat top that runs straight across the range.
If you are a fan of the Irish poet W.B Yeats then you may recognize the name from his poem "Under Ben Bulben" and your guide will share with you the many myths and legends that formed around the Ben thanks to its unusual shape
Following your time at the Ben, we will travel to the town of Sligo where your driver will take you to explore Sligo Abbey originally constructed in 1253 by Maurice FitzGerald, the same man who founded the town itself! Your guide will discuss the tumultuous history of the Abbey with you, and you can explore the displays of fabulous carvings and Gothic tomb sculptures that remain on display, alongside the well-preserved cloisters and 15th century high.
In the evening you will want to visit some of the places listed on the Sligo food trail for some of the freshest and tastiest produce in Ireland!
We recently Travelled with Prestige tours, a group of 12 of us from Canada. Michelle from Prestige helped us to form an itinerary and looked after everything. It was a pleasure to deal with Michel and her colleagues. They made everything easy and the tour was brilliant. Had our own really nice bus, lovely driver, excellent accommodations along the way and all our tickets booked into the attractions. Would definitely travel with them again and recommend them for group tours. Very reasonably priced also!
Day 4: Downpatrick Head & Connemara Tour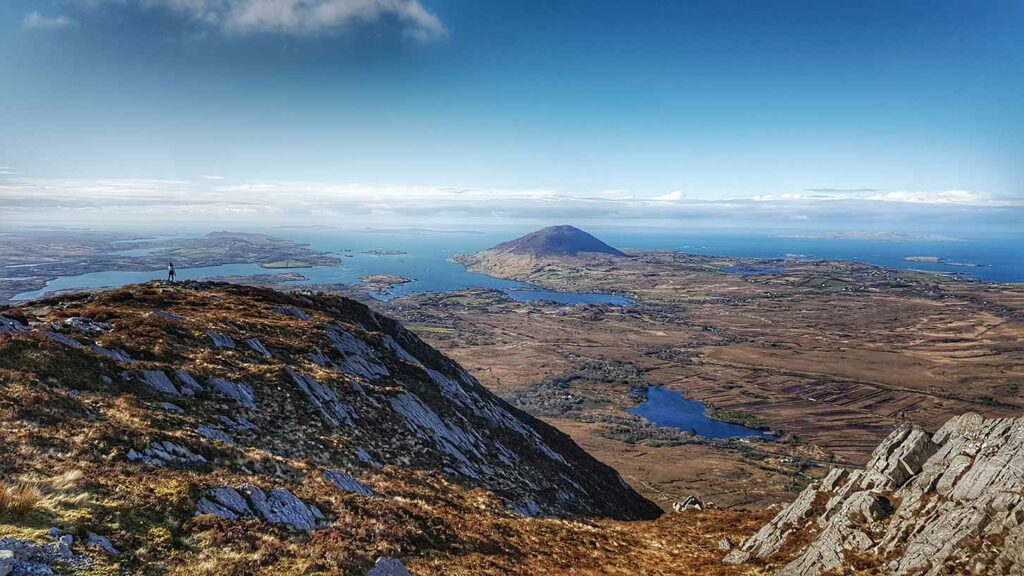 We have a full day ahead of us so we hope you didn't sample too much Irish Whiskey during your evening in Sligo, because we will be up early and on our way to Downpatrick Head!
Downpatrick Head is a formidable rock formation that stands just off the coast. As you might expect in a land of legends and fantastic tales, a sea stack standing almost 130 feet above the sea has attracted a few tales of its own that your guide will be happy to share with you. 
While the origin stories and myths surrounding Downpatrick Head may just possibly maybe be a little fanciful, what is certainly real are the ruins of the church, holy well, and stone cross to be found here, and we do know that there is the great spiritual significance attached to the site given that it was founded by St Patrick – our patron saint.
The next stop will be Connemara National Park that boasts 2,000 hectares of scenic mountains, expanses of bogs, heaths, grasslands, and woodlands. Some of the Park's mountains, namely Benbaun, Bencullagh, Benbrack, and Muckanaght, are part of the famous Twelve Bens or Beanna Beola range. Here you can also take the opportunity to see some of our famous Connemara ponies, red deer, and birds including peregrine falcons.
It will be evening by the time we arrive in Galway which will be our final stop for the day. Galway is known as the cultural heart of Ireland so we would recommend that you take a brisk walking tour of the town and either take your guide's advice on where to hear the best traditional Irish music for some evening entertainment or you may wish to spend the night simply enjoying a stroll down to the harbor.
Day 5: Aran Islands Day Trip from Galway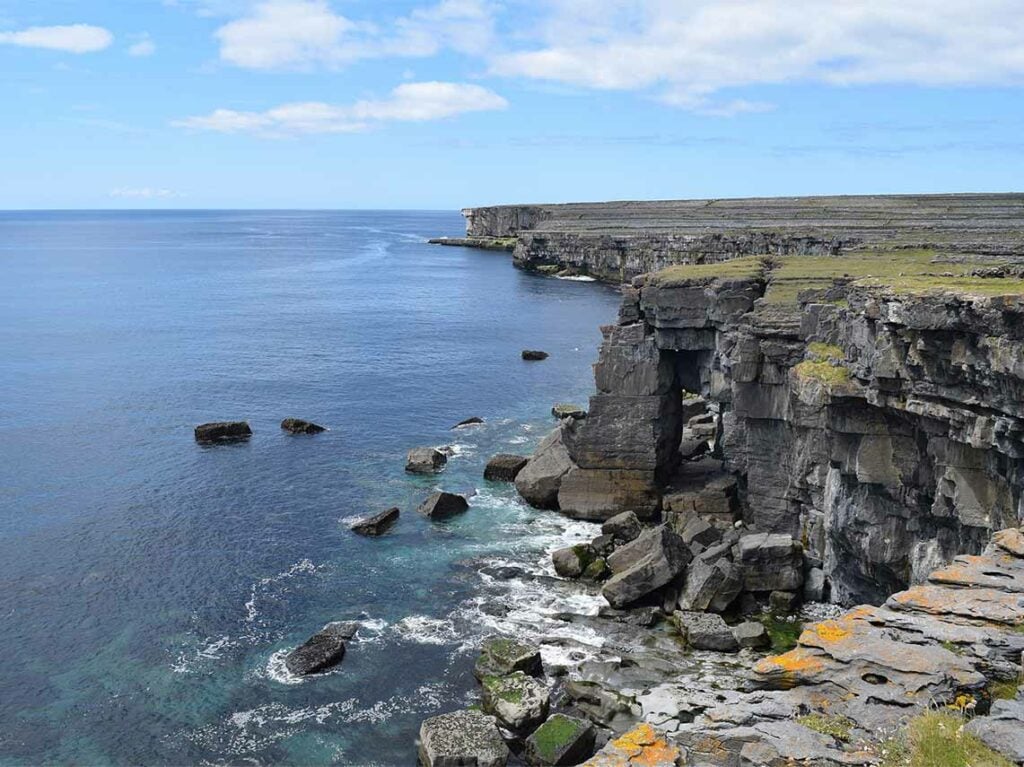 Today we will be taking the opportunity to do some island hopping just off the Galway coast.
The Aran islands consist of, Inis Mór, Inis Meáin and Inis Oírr. While we have seen some authentic villages and towns already on our Irish tour, this is an opportunity to really experience some traditional style Irish life. All three islands have Irish as their first language and you will get a strong sense of culture, heritage, and tradition as you enjoy exploring these remarkable places with your guide.
The largest of the islands, here you can explore:
Dun Aonghasa – an ancient fort constructed in 1100 BC that sits on the edge of a 330-foot cliff. 

Seal watching – You can find colonies of seals resting on the rocks before heading back into the water.

Poll na bPeist known as 'the Wormhole' is a naturally formed borehole straight through the limestone opening out to the sea below.
The smallest of the islands, here we would recommend:
The ruins of St Caomhán's church that dates from somewhere between the 10th and 14th centuries.

O'Brien's Castle – constructed in the 14th century.

The shipwreck of the Plassy – A popular site with an interesting history. Fans of the series Father Ted will recognize it from the opening credits.
The third island is Inis Meáin where you can visit Conor's Fort (Dun Chonchuir). This is the largest of the stone forts found on the islands and is located at the highest point of Inis Meáin – believed to have been built in the first or second millennium.
Now the dramatic landscapes, cottages, village life, and of course the famous Aran sweater market are quite the sights to behold, but you may have noticed that these three rocky isles off the coast and standing proudly in the Atlantic Ocean might not be the most accessible by car… and you'd be right! 
Access is made via ferry (passenger only – no cars allowed) or by an 8-minute flight to the islands from Galway. You can choose if you would like your guide to accompany you on this trip or if you would like to make the journey alone.
In the evening you will return to Galway.
Day 6: Cliffs of Moher & The Burren Day Tour
In the morning your driver-guide will collect you from your accommodation and begin the journey westwards to perhaps the most iconic site in all of Ireland – the majestic cliffs of Moher.
Our first stop along the way will see us visit the fishing village of Kinvara and visit the remains of Dunguire Castle: 
Take a moment to enjoy the magnificent scenic setting on the coast of the Atlantic, climb the tower house, and depending on what time you arrive there is the option to attend a medieval-style banquet in the castle complete with traditional entertainment!
After our medieval experience, it's time to get out into nature by making a stop in The Burren – A limestone wonderland formed millions of years ago and home to 75% of Ireland's native flora. The Burren is also a site with great historical significance and your guide will deliver you to Poulnabrone, the famous large Irish celtic crosses in Kilfenora, and other structures and relics dating from the Mesolithic era right through the Iron Age.
Take a break and enjoy a spot of lunch in the picturesque coastal village of Doolin. Tradition is the name of the game here, so be advised that you will not find any chain restaurants or modern coffee shops in the tiny little village, but your guide will direct you to the best places to enjoy a traditional Irish-style meal.
Onto the main event of the day, the world-renowned Cliffs of Moher. Neither words nor pictures can fully capture the power and grace of the Cliffs. 
Rising over 200 meters high and spanning 8 kilometers along the wild Atlantic coast, the Cliffs provide stunning views of the Aran Islands with the ocean crashing below. Your chauffeur will be able to inform you of all the folklore and myths that surround this incredible testament to the beauty of nature.
It is not just the setting of the cliffs of Moher that will blow you away, fans of wildlife and bird watching will want to spend hours here appreciating the Puffins, razorbills, Kittiwakes, and occasional peregrine Falcons that call the area home.
Bunratty Castle & Folk Park
Finally, before heading to your accommodation for the evening, you can then visit the 15th-century Bunratty Castle. Here you'll also find the Bunratty Folk Park, where you can experience what Irish rural life used to be like a century ago.
We used Prestige Tours for a family trip and they were wonderful. Michelle was great, she was always quick response with her emails and the hotel accommodations they made for us were amazing. Our driver Alan D was great, he loved telling us about the country. I highly recommend if you use this your group you ask for him!! 100% recommend using this company!!!!
Day 7: Ring of Kerry & Dingle Peninsula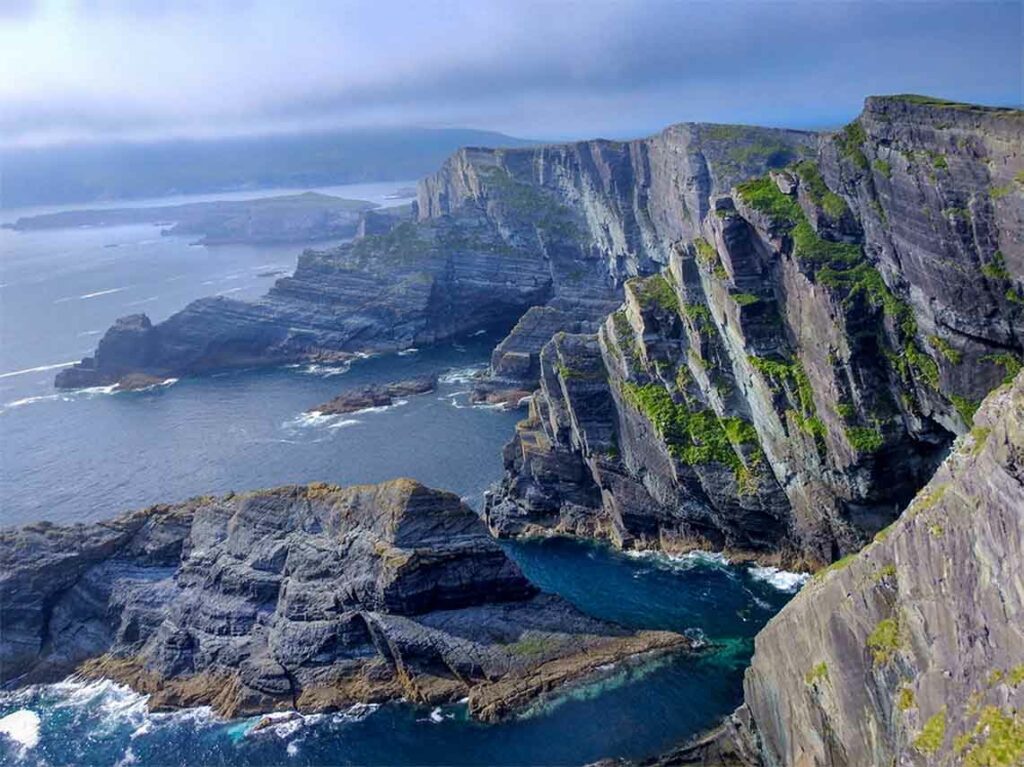 Ireland's most westerly point, the Dingle Peninsula offers rugged scenery and astonishing views. Dingle is a Gaeltacht region and the first language is Irish, so you may need your driver guide's assistance if you want to buy a souvenir from any of the local stores!
We will take the steep climb of Conor Pass to bask in the magnificent peak views and take our time to luxuriate in the glory of the Slea Head drive – recently voted one of the top 100 most beautiful places in the world.
The Ring of Kerry is a circular driving route renowned for the breathtaking scenery and landscapes to be found. Among the many stunning locations your driver will introduce you to, you will surely wish to take the mountain pass up through Molls Gap, where you will see the staggering views of Skellig Island – a key location for the recent Star Wars films.
Day 8: South Coast of Ireland
Our first stop will be a bit of a change of pace from the rest of the tour as we take a gentle stroll around Bantry House and Garden which is a stately home in the beautiful harbor town of Bantry in South West Ireland.
As well as being a magnificent Georgian home dating back to 1740 and offering glorious views out over Bantry Bay, the house also hosts an incredible collection of period art and furniture, with fabulous tapestries and mosaics on display, meanwhile, the gorgeous Italianate garden is bedecked with terraces and sculptures for you to roam around.
Yesterday we touched down on the most Western point of Ireland and today we reach the most Southern point of the Emerald Isle – Mizen Head, which is one of the Signature Discovery Points on the Wild Atlantic Way.
The drive here in itself is quite an experience with wild, rugged, and often jaw-dropping scenery on either side of the narrow winding roads leading you towards the coast.
Once you arrive at the cliffs though, Mizen Head is all about immersing yourself in the wild side of Ireland. The coastline is a hotbed of animal and sea life with opportunities for Whale and Dolphin watching, a nature reserve nearby, and a network of trails suitable for all ages and experience levels, from short nature, walks, to longer more demanding routes for experienced trekkers.
In the late afternoon, we will arrive in Cobh, a quaint little seaside town that was previously the main port of emigration from Ireland, with approx 2.5 million emigrants leaving for North America between 1848 and 1950. If you are an American with Irish ancestry there is an excellent chance that your relatives set off from Cobh bay.
Another destination in Cobh that we would rank as a 'must-see' is the Titanic Experience where the old White Star Line offices used to be. Cobh was the last port of call for the fateful ship, and we do hope that if your relatives did indeed leave from Cork it wasn't on that particular journey!
Your accommodation for the evening will be in Cork.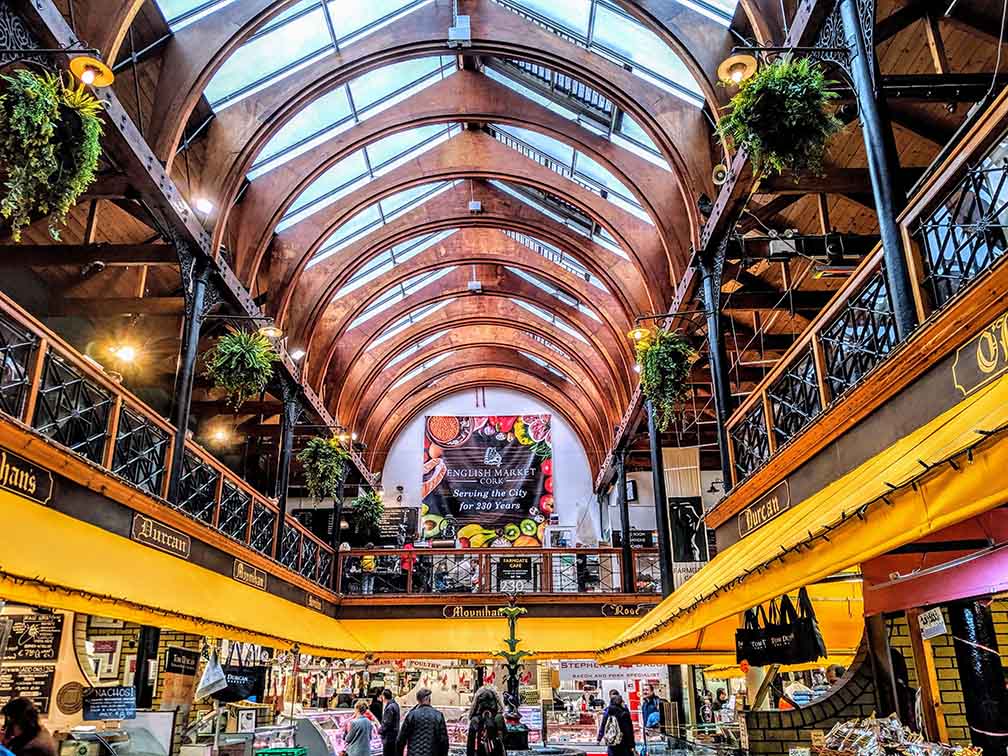 The locals refer to Cork as the 'real capital of Ireland' and today we will aim to display the reasons why to you as we spend the full day exploring this beautiful little coastal town.
Cork actually enjoys another moniker, that of the "Rebel City" which stems from the role the city played in the Irish War of Independence, so it will be no surprise that there is a litany of sites to visit to connect you with these stories so integral to the history of Ireland and in molding our present society. These include the Military Museum at Collins Barracks, the Cork City Gaol, where nationalist Constance Markievicz and other rebels were held, and a reminder of some of the darker periods in Ireland's history, and the Imperial Hotel where revolutionary leader Michael Collins spent his final night.
On a lighter note, there is the 18th Century St. Anne's Church. It is still in use today and has earned the title of the "Four-faced-liar" but your guide will reveal why to you when you are in its presence! Here you can ascend to the belfry and actually ring the eight bells while drinking in a remarkable view across the city.
Finally, Cork makes for a fantastic destination for your last evening in Ireland thanks to its fantastic food and drink scene. Having spent the previous 8 days traversing the length of Ireland we are sure you will welcome a feast fit for a Queen, so what a coincidence that Her Majesty Queen Elizabeth II has actually visited the appropriately named English Market in Cork with its colorful rows of artisan stalls serving up mouthwatering local and international dishes.
For your last evening, we would recommend winding down with a tipple or two of some fine Irish Whiskey, while reliving your favorite memories of the last 9 days before returning to your accommodation in the city center for the evening.
Everything was fabulous. Brian was a wonderful driver, flexible, informative and kind. We left with great memories and a new friend. Thank you for all your support along the way to customize our tour to our exact needs. We definitely would recommend Prestige Tours!
Day 10: Cork To Dublin Private Day Tour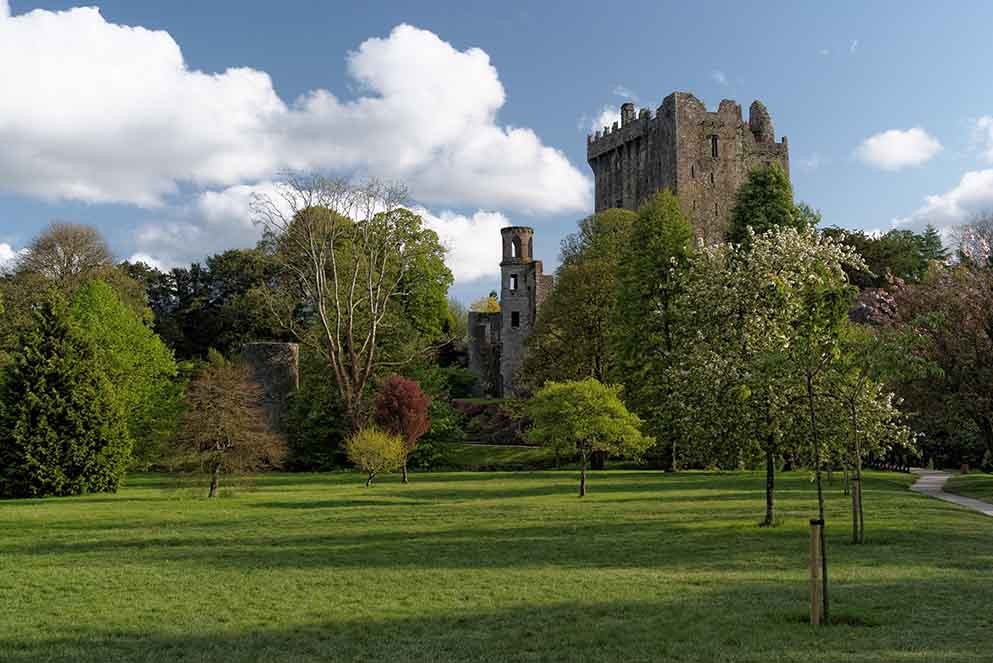 After checking out of your hotel your driver-guide will collect you and take you to Dublin for your flight back home, but on the way stop at Blarney Castle, the home of the Blarney Stone! 
Built nearly six hundred years ago by one of Ireland's greatest chieftains, Cormac MacCarthy, the castle has been attracting attention ever since. Over the last few hundred years, millions have flocked to Blarney making it a world landmark and one of Ireland's greatest treasures. 
That might have something to do with the Blarney Stone, the legendary Stone of Eloquence, found at the top of our tower. Kiss it and you'll never again be lost for words – better than any souvenir from the gift shop, I'm sure you'll agree!
After your visit to the castle, your driver-guide will take you to The Rock of Cashel. Contrary to the name this isn't actually a rock at all and instead is a remarkable and historically significant group of ancient chapels and medieval fortifications situated on prominent limestone outcrops.
Climbing to the top of the Rock offers glorious views across the  Golden Vale (so known because of the quality of the land) in County Tipperary. The Rock was the seat of ancient Irish Kings for over seven centuries and the patron saint of Ireland, St Patrick (you may have heard of him, there is a little celebration in his honor every year!) chose to make this the head of his church in Ireland.
From here your final destination of the trip and indeed for your Irish vacation is a transfer to Dublin airport. 
Create your perfect custom tour of Ireland
If you'd like us to book your accommodation or have any special requests, let us know in the comments.
Our group of four women hired Prestige Tours for a 5 day excursion – Dublin-Galway-Killarney-Cork-Dublin. We couldn't have been happier with the service. It was a true vacation not having to worry about getting lost or where to eat/sleep. Accommodations were included with our tour and our knowledgeable guide, Peter, gave us awesome dining recommendations at every stop. During our drive, Peter entertained us with related facts and stories. Experiencing the local culture is paramount to me. Prestige Tours did not disappoint. Some highlights for me were attending the Celtic Steps show in Killarney, the delicious dining in Kinsale and browsing the shops in Dingle and Kenmare. Thank you to Peter and Prestige Tours for a memorable trip to your beautiful country!
Michele Curtis
★★★★★​
Merrie and I thoroughly enjoyed our fabulous three-day-tour experience! Ray was a wealth of information and is truly passionate about his calling. Neither of us had ever been to your beautiful country before and felt as if we received a crash course in Irish history, architecture, culture and politics in our short time there. Beginning with Dublin helped to set the stage and then we branched out on days two and three. Ray made adjustments in real time to our itinerary and showed us some places we would have never known to look for (such as the Dublinia museum and Kilmainham jail). We had a special entrance to view the tops of the Cliffs of Moher, visited the Irish National Stud Farm and thoroughly enjoyed our trip to Blarney Castle and the Rock of Cashell. Thank you so much for your attentiveness and providing an excellent service!
Emily Turner
★★★★★​
I cannot say enough good things about Prestige Tours!!!! We had a fantastic week with our driver Billy George- he was so friendly & easy to get along with. He provided us a great experience as we traveled around Ireland. We really enjoyed his company. He was a really great driver & very funny too! James our driver from Dublin to Belfast was also awesome! He provided great insight to the history of Ireland & the troubles in Belfast. I think my husband would have talked to him for 10days straight if given the opportunity. The vehicles were really clean & nice. The itinerary was perfect!! We loved Ireland & this experience soooo much.
Amanda S.
★★★★★​
We were in Europe for nearly five months and took several tours like this during our stay. This tour was by far the best, and Rosemary was by far the best guide we had. She was very friendly and informative and went out of her way to accommodate us (e.g. our numerous requests to stop for photo ops!). We not only saw the Giant's Causeway but so many other things on this beautiful tour such as the Dark Hedges, Dunluce Castle, Carrickfergus Castle, Larne, Antrim Coast, Glenarm Castle, Ballycastle, Ballintoy, Bushmill's Distillery, Torr Head, Carrick-A-Rede Island, and Rope Bridge, Portrush Golf Club. This tour is one of those experiences that we will cherish for the rest of our lives, and we are grateful to have had a guide like Rosemary as well as a very comfortable Mercedes in which to enjoy the drive. We highly recommend!
Jeff T
★★★★★​
If you're traveling to Ireland and looking for a reliable tour group, look no further than Prestige. We had the pleasure of using them and it was one of the best trips we took. Our driver James McCleave made the trip even better. He was kind, funny and an overall pleasure to be with. Our trip was a bit different from most bc we mixed in some of our own itinerary along with Prestige's recommendations. We saw family along the way and decided on plans as we went along, letting the way we felt that day guide us. James was reliable, flexible and went with the flow. He made recommendations along the way that we otherwise wouldn't have known about. Don't hesitate to use Prestige on your next booking!
Samantha Collins
★★★★★​