5 Day Private Tour of Ireland Itinerary
5 Day Irish Tour Itinerary Summary
This 5-day Irish driver-guided tour itinerary has been designed for you to enjoy must-see sights and locations in Ireland to provide you with a great taste of what makes this little island of ours so unique and special.
This itinerary is merely a guideline, however, and should you wish to alter it in any way, or even if you have completely different locations in mind for your Irish vacation, simply request your tour quote today and we can create a completely custom itinerary to suit your needs.
Day 1: Dublin Airport Collection & Kilkenny Tour
This 5 Day Tour of Ireland starts in the capital city of Dublin as your driver-guide collects your group from the airport and whisks them off for a magical tour of Ireland. 
We waste no time in starting the tour, heading straight to the medieval heart of Ireland, Kilkenny, to visit:
Built in 1195, the castle was featured in Oliver Cromwell's re-conquest of Ireland in 1650 and was besieged during the Irish Civil War in 1922.
St. Mary's Medieval Mile Museum brings to life Kilkenny's history as a medieval city. Displays of Kilkenny's civic treasures and replicas of some of the High Crosses of Ossory illustrate the local Gaelic monastic heritage and the ancient city's historic role in Ireland.
A city in the 'Sunny South East' of Ireland and the country's medieval capital, Kilkenny offers the traveler a mixture of rich cultural heritage, beautiful streetscapes, exciting vibrant nightlife, and great shopping opportunities. The River Nore flows through the city, splitting it in two, with most sights of interest on the western side of the river. Kilkenny is the county town or main center of County Kilkenny. With a population of 26,000, it's the size of a large town but retains the official status of a city, a status granted it by King James I of England in 1609.
Once you've had a quick tour of the city, we'll head to your accommodation for the evening in Kilkenny.
Day 2: Killarney Day Tour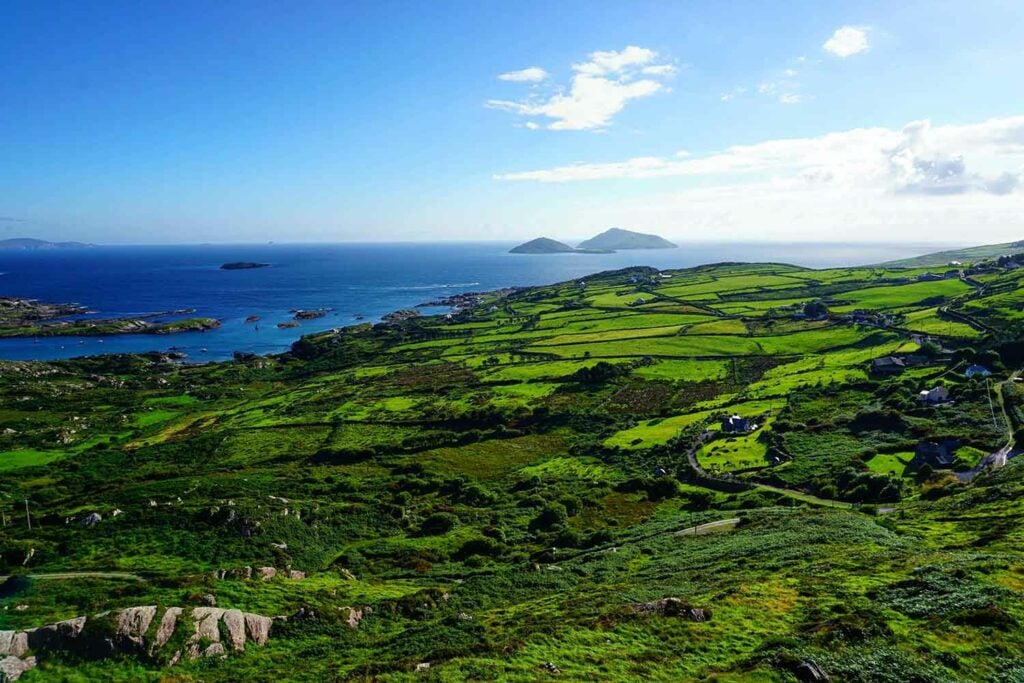 Your driver-guide will collect you & you will make your way to the infamously beautiful Killarney, first stopping at: 
This nineteenth-century Victorian mansion bearing all the necessary furnishings and artifacts of the period is set against the outstanding beauty of Killarney National Park. As a focal point within Killarney National Park, Muckross House is the ideal base from which to explore this landscape.
You will visit the famous Torc Waterfall which is located close to the entrance to Muckross House. From the viewing point, you will have a view over the Middle Lake as well as the falls themselves. 
You will marvel at the falls that are a 20-meter high, 110-meter-long cascade waterfall formed by the Owengarriff River as it drains from the Devil's Punchbowl corrie lake at Mangerton Mountain and sits at the base of Torc Mountain.
Killarney National Park Drive
Killarney National Park, the very first national park to be established in Ireland in 1932, is a very popular tourist attraction, for its diverse nature and amazing scenery. The park is of high ecological value because of the quality, diversity, and extensiveness of many of its habitats and the wide variety of species that they accommodate, some of which are rare. The park was designated a UNESCO Biosphere Reserve in 1981.
The park contains an expanse of rugged mountainous country. This includes the MacGillycuddy's Reeks, the highest mountain range in Ireland. 
Your driver-guide will return you to your Killarney hotel for the evening where you can simply take a stroll through the quaint streets of Killarney.
Prestige Tours did an excellent job planning a two-day trip for a group of 20 people for a 50th birthday celebration. They were very flexible with the itinerary and open to changes on the go. Highly recommend using them for any trips in Ireland. Slainte
Day 3: Cliffs of Moher & The Burren Private Tour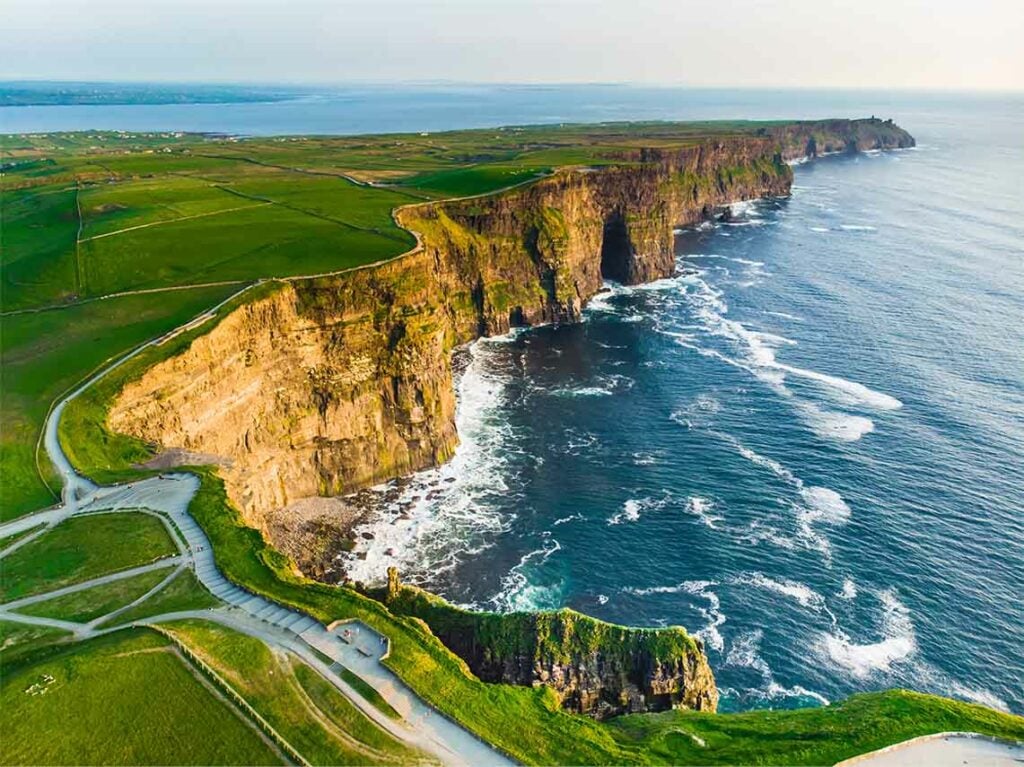 This morning after breakfast your driver-guide will collect you from your hotel and drive you north towards the Limerick Clare border to your first stop:
Bunratty Castle & Folk Park
Here you will visit the acclaimed 15th century Castle, the most complete and authentic castle in Ireland. The site on which Bunratty Castle stands was in origin a Viking trading camp in 970. The present structure is the last of four castles to be built on the site. You will take a tour of this iconic fortress; hear and see how the lords and ladies of this castle lived; hear stories of battles and bravery and enjoy stunning views across the idyllic Clare countryside.
The Folk Park, set on 26 acres of unspoiled Clare countryside, is a treat for persons young, old, and in-between, and features over 30 buildings in a 'living' village in a rural setting. Farmhouses, village shops, and streets are recreated and furnished as they would have been at "that time" according to their social standing, from the poorest one-roomed dwelling to Bunratty House a fine example of a Georgian residence that was home to the Studdarts, the last family to occupy the Castle.
Neither words nor pictures can fully capture the power and grace of the Cliffs.
Rising over 200 meters high and spanning 8 kilometers along the wild Atlantic coast, the Cliffs provide stunning views of the Aran Islands with the ocean crashing below. Your driver-guide will be able to inform you of all the folklore and myths that surround this incredible testament to the beauty of nature.
It is not just the setting of the cliffs of Moher that will blow you away, fans of wildlife and bird watching will want to spend hours here appreciating the Puffins, razorbills, Kittiwakes, and occasional peregrine Falcons that call the area home.
Next on your tour is The Burren, a region famous internationally for its landscape and flora. Most of the Burren is designated a Special Area of Conservation to protect this extremely unusual habitat of Limestone Pavement, Calcareous Grassland, Hazel scrub, Ash/Hazel Woodland, Turloughs, Lakes, Petrifying Springs, Cliffs, and Fen.
The word "Burren" comes from the Irish word "Boíreann" meaning a rocky place. An invading Army Officer once said, "here there is not water enough to drown a man, wood enough to hang one, nor earth enough to bury one". 
Once you've explored The Burren with your guide, we'll head up the coast to Galway and to your accommodation for the evening.
Day 4: Transfer to Dublin & Half Day Tour
This morning, your driver-guide will collect you from your hotel & will take you to Dublin where you will visit some of the city's best sites throughout the next two days.
Today, we'll spend the afternoon visiting: 
The castle is one of the most important buildings in Irish history. From 1204 until 1922 it was the seat of British rule in Ireland serving as a residence for the British monarch's representative, the Viceroy of Ireland. After a fire in 1684, it was rebuilt with grand reception rooms known as the State Apartments which were the focus of great state occasions. In the early nineteenth century, the Castle was enhanced by the addition of the Chapel Royal. This magnificent Gothic Revival structure, bristling with pinnacles on the outside and rich with ornamental features within, is one of the architectural highlights of Georgian Dublin today.
Kilmainham Gaol, built in 1796 and located in the heart of Dublin City in Ireland, served as a prison in former times where many Irish revolutionaries were imprisoned and executed by the British. Today it houses a museum on the history of Irish nationalism and offers guided tours of the building. An art gallery on the top floor exhibits paintings, sculptures, and jewelry of prisoners incarcerated in prisons all over the country.
Kilmainham Gaol, one of the biggest gaols – or 'jails' – in Europe and sometimes referred to as the 'Irish Bastille', is among the most popular tourist attractions in Dublin, attracting thousands of visitors every year.
Your next visit is the world-famous Guinness Storehouse where you can experience the history, heart, and soul of Ireland's most iconic beer by exploring the past, present, and future of St. James's Gate. The Guinness Storehouse building was once the fermentation plant of the brewery but now you can make your way through the space, exploring the ingredients, history, and culture that tell the Guinness story. Your visit will culminate in the Gravity Bar, where you can enjoy a taste of the Black Stuff, some food tasting, and receive a Guinness branded gift. 
Finally, on your last evening in Ireland on this tour, visit the Temple Bar District to see firsthand why the Irish are so famous for their drinking culture by exploring the wonderful selection of traditional bars that fill the street with the sound of laughter and traditional Irish music.
Finally, after a long day of touring, we'll settle into your accommodation in Dublin for the evening.
Absolutely wonderful experience with Prestige Tours! Our driver, James McCleave was the most amazing tour guide, story teller, and historian. He is professional, funny, courteous, patient and sure knows his way around. He made suggestions for us to improve our trip, and we took them all and completely benefitted from his expertise. He was incredibly accommodating to my 91 year old mother and went well out of his way to make sure we had everything we needed. He made our trip the greatest experience we could have ever hoped for. I highly recommend Prestige for their customer care and service, knowledge, and communication (Michelle is fabulous!). We cannot wait to return to Ireland - James, I hope you'll be ready for us!
Day 5: Dublin Day Tour & Airport Drop-off
And alas, we reach the final day of your tour in Ireland! We'll round off the trip with some visits to some more of Dublin's best sites before your flight (depending on flight/departure times):
EPIC The Irish Emigration Museum
Take part in this incredible interactive journey to learn about how this small island and its people have made such an impact across the world.
Where the Proclamation was read on Easter Sunday, 1916, for the first time ever.
Taste the true spirit of the Island and learn a complete and unbiased history of Irish whiskey from experts!
The oldest university in Ireland and the host of the hallowed 'Book of Kells' which dates back to 384AD!
Create your perfect custom tour of Ireland
If you'd like us to book your accommodation or have any special requests, let us know in the comments.
Our group of four women hired Prestige Tours for a 5 day excursion – Dublin-Galway-Killarney-Cork-Dublin. We couldn't have been happier with the service. It was a true vacation not having to worry about getting lost or where to eat/sleep. Accommodations were included with our tour and our knowledgeable guide, Peter, gave us awesome dining recommendations at every stop. During our drive, Peter entertained us with related facts and stories. Experiencing the local culture is paramount to me. Prestige Tours did not disappoint. Some highlights for me were attending the Celtic Steps show in Killarney, the delicious dining in Kinsale and browsing the shops in Dingle and Kenmare. Thank you to Peter and Prestige Tours for a memorable trip to your beautiful country!
Michele Curtis
★★★★★​
Merrie and I thoroughly enjoyed our fabulous three-day-tour experience! Ray was a wealth of information and is truly passionate about his calling. Neither of us had ever been to your beautiful country before and felt as if we received a crash course in Irish history, architecture, culture and politics in our short time there. Beginning with Dublin helped to set the stage and then we branched out on days two and three. Ray made adjustments in real time to our itinerary and showed us some places we would have never known to look for (such as the Dublinia museum and Kilmainham jail). We had a special entrance to view the tops of the Cliffs of Moher, visited the Irish National Stud Farm and thoroughly enjoyed our trip to Blarney Castle and the Rock of Cashell. Thank you so much for your attentiveness and providing an excellent service!
Emily Turner
★★★★★​
I cannot say enough good things about Prestige Tours!!!! We had a fantastic week with our driver Billy George- he was so friendly & easy to get along with. He provided us a great experience as we traveled around Ireland. We really enjoyed his company. He was a really great driver & very funny too! James our driver from Dublin to Belfast was also awesome! He provided great insight to the history of Ireland & the troubles in Belfast. I think my husband would have talked to him for 10days straight if given the opportunity. The vehicles were really clean & nice. The itinerary was perfect!! We loved Ireland & this experience soooo much.
Amanda S.
★★★★★​
We were in Europe for nearly five months and took several tours like this during our stay. This tour was by far the best, and Rosemary was by far the best guide we had. She was very friendly and informative and went out of her way to accommodate us (e.g. our numerous requests to stop for photo ops!). We not only saw the Giant's Causeway but so many other things on this beautiful tour such as the Dark Hedges, Dunluce Castle, Carrickfergus Castle, Larne, Antrim Coast, Glenarm Castle, Ballycastle, Ballintoy, Bushmill's Distillery, Torr Head, Carrick-A-Rede Island, and Rope Bridge, Portrush Golf Club. This tour is one of those experiences that we will cherish for the rest of our lives, and we are grateful to have had a guide like Rosemary as well as a very comfortable Mercedes in which to enjoy the drive. We highly recommend!
Jeff T
★★★★★​
If you're traveling to Ireland and looking for a reliable tour group, look no further than Prestige. We had the pleasure of using them and it was one of the best trips we took. Our driver James McCleave made the trip even better. He was kind, funny and an overall pleasure to be with. Our trip was a bit different from most bc we mixed in some of our own itinerary along with Prestige's recommendations. We saw family along the way and decided on plans as we went along, letting the way we felt that day guide us. James was reliable, flexible and went with the flow. He made recommendations along the way that we otherwise wouldn't have known about. Don't hesitate to use Prestige on your next booking!
Samantha Collins
★★★★★​